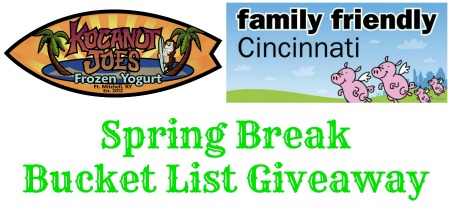 Are you looking for ways to keep the kids busy over Spring Break?  We've come up with the perfect way to have fun around town and at home and in the process you can do good things in your community AND enter to win a fabulous prize!  Sound interesting?  Read on…
 We are collaborating with Kocanut Joe's Frozen Yogurt in Fort Mitchell to give one lucky reader a PARTY AT KOCANUT JOE'S!   What kid wouldn't love a frozen yogurt party?!?!  And it doesn't have to be for their birthday…you could celebrate the warmer weather, a sports victory, or even celebrate because your child got good grades.  Whatever the reason you have for celebrating, KoJo's will provide the Froyo for up to 15 kids!
The fine print ::
ONE winner will be chosen randomly on Wednesday, April 17th at 2pm.  The winner will be emailed and announced on Facebook.  You will have 24 hours to respond or another name will be chosen.  The winner will be given a certificate worth a party for up to 15 children at Kocanut Joe's Frozen Yogurt to be used before June 15th 2013.  You will contact the owner of the store to set up a date/time that works for you.  At the party up to 15 children will receive a FREE 6oz cup of Froyo with toppings and a Kocanut Joe's temporary tattoo.
Mandatory Entry:
Leave a comment ~ What would you celebrate if you won this contest?
Bonus Entries
**Here's where the challenge comes in, THIS IS NOT ONE OF OUR TYPICAL GIVEAWAYS, so read carefully:  We've listed some fun ideas to keep your family busy this Spring Break and ways to give back to the community and for each activity that you do you can post another comment as an entry in the contest!  Please note, we don't expect everyone to complete every activity, we just wanted to have a wide selection to choose from. 😉  So get to work on your family's very own bucket list and enter to win!
Remember, leave a separate comment for each activity that your family does!
Tweet about this giveaway to get other folks excited: Our family is having a blast taking part in the #SpringBreakBucketList with @KocanutJoes on @FamFriendlyCin.
Visit a local Museum (or even one that's not so close to home).
Read a book together as a family.
Find a "dirty spot" in your community and pick up trash as a family.
Make cards for people who are sad or sick or lonely and deliver them (great places to send cards are hospitals, nursing homes, or elderly neighbors).  **This was inspired by the recent #5CardChallenge by Adventure Mom & a Bird and a Bean blogs.
Find a new park to visit.
Make food for a local soup kitchen or Ronald McDonald house.
Throw your dinner plans out the window on a pretty night and pack up a picnic dinner instead!  Eat at a park, in the backyard, or on a park bench by the river…just get outside!
"Choose your own adventure" – each person can have one entry that is not listed above.  Just leave a comment telling us what kind of adventure your family had on Spring Break.  It doesn't need to be a big, grand adventure, it can be as simple as preparing a meal together.
 Good Luck, and HAVE FUN!
And while you're doing these activities, we'd love to see your pix on Twitter and Instagram tagging @FamFriendlyCin & @KocanutJoes with #SpringBreakBucketList
 Kocanut Joe's is located at 2479 Dixie Highway in Fort Mitchell.  Their winter hours are Sunday – Thursday from 12-9 and Friday & Saturday from Noon until 10.  859-331-KOJO
Disclaimer :: The prize for the Spring Break Bucket List Giveaway is being given by Kocanut Joe's Frozen Yogurt.