Living in Mason, I tend to drive by the same businesses all the time.  It's almost as if they blend into the landscape and you forget that they are there.  Well, blinders be gone, it's time to take notice of  The Mason Grill, a touch of Americana right in our own backyard.   It's been a few years since I've visited The Mason Grill, and now I've been twice in one week.  I don't know why I haven't frequented more often since 1) the food is delicious, 2) you can get breakfast all day every day, 3) it's family-friendly, 4) the price is right, and 5) the owners and servers are friendly and hospitable.
On my first visit, I went with a friend and her girls (ages 9 and 11).   All of us gave it a thumbs up.  I ordered the Santa Fe Chicken Salad ($8.25).  This salad was so good and I felt like it was bottomless.  You could just get your dressing on the side, eat half there and take the other half home.  I kept repeating how the salad never seemed to end. It was covered in colorful and crispy tortilla chips and the chicken was moist and flavorful and the creamy dressing had a bit of a kick. Plus all the goodies inside the salad kept me coming back for bite after delicious bite. My friend got the Grilled Chicken Salad ($7.25) , her oldest a Gyro, and her youngest ordered the chicken tenders & fries from the kid's menu.
I took my parents on my second visit of the week.  They loved it too and wondered why I hadn't taken them there before.  Well, no worries since we now have a great diner we can all agree on.  Since you can order breakfast all day every day, my Dad was a happy camper and he ordered 2 pancakes, 2 eggs, and 2 sausages ($5.75).  I think it was a winner since his plate was picked cleaned. Mom tried the Santa Fe Chicken Salad since I raved about it.  She also had to have an order of home fries. Why?  She loves a real and true home fry.  They don't use any frozen home fries – their home fries are straight from potatoes that they boil and then slice and dice.  Those home fries were so good.  Fresh and flavorful made from scratch ingredients is definitely the way to my hungry heart. I ended up with a Gyro and asked for green peppers instead of onions.  Their  Tzatziki sauce is thick and creamy and a perfect accompaniment to the Gyro ($5.95).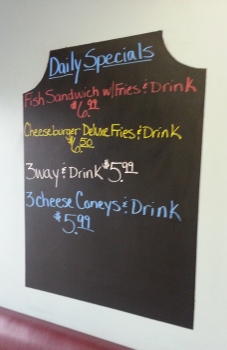 We'll definitely return very soon with our girls. They have a good variety of kids meals ($3.95) and all their kids meals come with a choice of a drink. Click here for a link to their menu. They also have weekly specials to enjoy. At the end of our visit, I chatted with one of the owners and just wanted to say that he was so friendly and appreciative that we stopped by.  The Mason Grill has been here for nine years now and I wish them continued success. Looking forward to dining there again very soon….next up is breakfast. Yum!
124 East Main Street
Mason, Ohio 45040
513 754-1100