Like most folks nowadays I have been trying to get in shape, lose some weight, be more active, and be mindful about what I eat.  I have been doing a pretty good job of it too, if I do say so myself.  Sometimes, though..sometimes you just need a treat.   Everyone has that 'one' item that they will make room for in their diet, or save points for, or just plain splurge on…cheesecake, brownie, donut.  Donut.  Mmm…warm glazed donut.  I'm sorry…were we talking about something?
Oh yes!!  It was about being healthy, right?  Let me share a little secret with you…you can have your donut and be healthy too.  Thank you Busken for making it possible to make room for my 'one' treat without feeling guilty about it.  Introducing the Lite-Hearted Donut from Busken!  These heart-shaped glazed donuts are only 140 calories and 2.5 grams of fat (zero trans fat and zero saturated fat) as compared to the 300 calories and 16 grams of fat in their original glazed donut.   They can't possibly be as delicious as the original though, right?  Wrong!  They are every bit as big and delicious as the original.  My family and I were lucky to get to taste test a dozen of them just this very morning and I am here to tell you that they have disappeared so fast I feared I wouldn't even get to try one.   My husband, ever the punny one, had this to say about the Lite-Hearted donut:  "I do-nut believe they are So good!"  Yup, that's my man.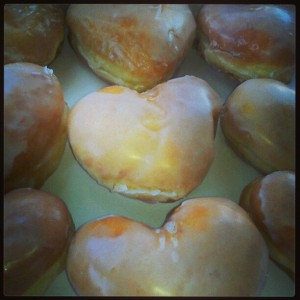 Slightly crispy on the outside, soft and chewy on the inside, and perfectly glazed.  Everything you want in a donut.  We will definitely be enjoying the Lite-Hearted donut again in our house.  While I was picking up my donuts today I also noticed their 'Skinny' cookies.  What?!  How did I not know about these?  Half the fat and fewer calories than the original Smiley Faced cookies we all know and love, and just like the donuts..all the delicious flavor.   Yes, please!
Are you sold?  Want to win some Lite-Hearted goodness of your very own?  I thought so!
::::GIVEAWAY::::
Busken and Family Friendly Cincinnati are teaming up to give you a chance to try the Lite-Hearted donut for yourself.  How about a dozen dozen donuts of your very own?  You read that right.  A dozen dozen.  12×12 dozen donuts.  That's 144 Lite-Hearted donuts to share (or not) with your Valentines.
To enter simply do the following:
Tell us in 140 characters or less why you want to try the new Lite-Hearted Donut.
Are you a donut aficionado?  Are you watching your waistline?  Do you simply not believe that they could really be THAT good?  Tell us what your motivation is for wanting to taste test the new Lite-Hearted donut and you are entered to win 144  of them.
Want a couple of extra entries?  Do one or both of the following:
Details:  Please leave a separate comment IN THIS BLOG POST for each entry.  Must be 18 years of age and a resident of the Greater Cincinnati area to win.  Giveaway will close and winner will be drawn on Monday, February 25 at 2 PM and notified via email.  Winner has 24 hours to respond or a new winner will be chosen.
Busken is a Cincinnati icon and I don't know many people who don't know the name, but did you know:
Busken was founded during the Great Depression (1928 to be exact) by Joseph and Daisie Busken.
It's a 4th generation family owned and operated bakery that has been recognized as one of the best full-line bakeries in the nation (by Food Network's Best Of among others)
Busken operates 10 bakeries in Cincinnati and Northern Kentucky and their product can be found not only at their bakery locations but also at Remke/Bigg's and 135 UDF locations.
For more information on Busken, or to find a location near you, please visit their website at www.busken.com.  Make sure to be on the lookout for the unveiling of their Pop-Up Shop in the heart of Over the Rhine between A Tavola and Sloane Boutique at 1218 Vine Street!  Starting Friday, February 15 you can find tasty treats at the Busken Pop-Up Shop every Thursday (7 p.m.-12 a.m.), Friday (7 p.m.-1 a.m.) and Saturday (7 p.m.-1 a.m.) .
Good luck!
When not blogging at Family Friendly Cincinnati you can find Amy writing at her personal blog www.in-a-galaxy.blogspot.com.