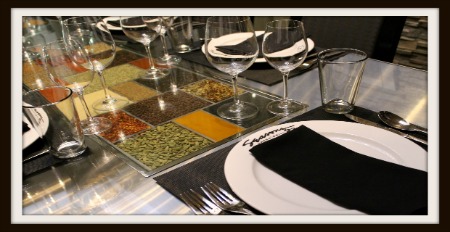 Are you looking for a new restaurant for date night?  I think I have just the place for you…Seasons 52 at the Rookwood Exchange.  This week several writers from Family Friendly Cincinnati were invited to enjoy a complimentary media preview dinner at Seasons 52 (set to open Monday, February 4th 2013).  I accepted immediately because you all should know by now that I love finding new places to go out to eat!  I decided not to find out anything about the restaurant before going.  I wanted to be surprised and go into the dining experience with a completely open mind.    If I had read about the restaurant before hand, this is what I would have found:
Seasons 52 is a fresh grill and wine bar that offers guests a unique dining experience that celebrates living well.  Our seasonally inspired menu and award-­‐winning international wine list are designed to excite and surprise the palate.  The "Seasons 52" name and menu are inspired by the seasons and the fresh appeal of the farmer's market.  Every week of the year, our restaurants strive to feature the freshest ingredients at the peak of ripeness and flavor, and offer them in ways that showcase culinary art and creativity.  Wood-­‐fire grilling and brick-­‐oven cooking result in meals that are naturally lower in calories with nothing on the menu over 475 calories.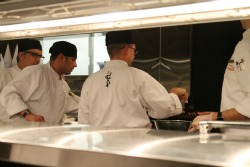 So what's not to love?  Great food, fresh food, and under 475 calories per meal?  When they told us about their methods of preparing fresh foods, the constant menu changes to keep things fresh, and the fact that the meals were tailored to be under 475 calories I was astounded.  This is certainly not common practice in many restaurants.  I love that they are striving to be such a healthy restaurant.  And of course it doesn't hurt that the have a wine "chateau" that holds more than 2,000 bottles of wine.  If you are a fan of delicious meals, love to eat healthy, want to try new foods or love wine, you should make a point to head to Seasons 52.  I have to admit, I don't drink wine, but this dinner at Seasons 52 made me re-think my dislike of wine, perhaps I've just been drinking the wrong stuff.  They paired each course with the perfect glass of wine.  I enjoyed each one of them.  The servers at Seasons 52 have been training with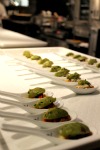 Master Sommelier George Miliotes to prepare for the opening of the restaurant, so they will be able to help guests find the perfect wine for their meal.
The food was truly amazing.  We were served a seven course meal, with wine pairings, so we were able to taste a little bit of everything that evening.  And the presentation of each dish was unique and enticing.  We had salad, steak, organic salmon from Ireland, quail, flatbreads, ravioli (with goat cheese, yum!) and much more.  I loved every bit of it.  And I think it's fascinating that they have an open kitchen, we could see the chefs at work behind the counter preparing all of our dishes.  Here are a few pictures of some of the meals, provided by Seasons 52 (my pictures of the food did not turn out so well, I must have been in too much of a hurry to eat to get good pictures).  Please note, I only mentioned the foods that we tried, they also have many other options, including several vegetarian options.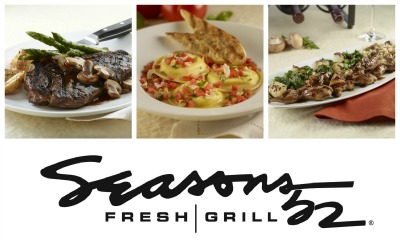 My favorite part of the meal had to be the mini-indulgence desserts.  There were several to choose from, and it was one of the hardest decisions I've had to make in a while, haha.  The server ended up giving me two, which I shared with my friends.   Since we were all sharing I was able to take a taste of several, and they were all out of this world.  The mini indulgence desserts are served in a small glass and are beautiful to look at and scrumptious to eat.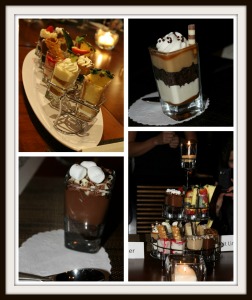 I had a great time out with the ladies from Family Friendly Cincinnati at this complimentary dinner, and I cannot wait to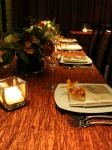 go back with my husband for a date night in the near future, I think he's going to love it too!  Seasons 52 isn't just for date nights and ladies night out, it's a perfect spot to meet with friends for lunch or cocktails, or even to host an event.  Seasons 52 had several lovely event rooms that would be perfect for a rehearsal dinner, company party, or even an intimate wedding reception.  And Seasons 52 would be a perfect restaurant for a nice dinner out with the family, or perhaps when it's warmer lunch on the patio.  I would prefer to go back for a date night, simply because I enjoy occasional date nights away from the four munchkins where I can enjoy the meal and conversation and linger over dessert without worrying about their noise level, or cutting their food or running to the restroom.  We all need a break sometimes, and Seasons 52 is the perfect place to enjoy a night out on the town.
Seasons 52 is a lovely restaurant, the detail given to design and decorations is meticulous.  Everything is gorgeous and inviting.  The style of the restaurant was inspired by Frank Lloyd Wright's design style.  While we were dining at Seasons 52 we were treated like royalty.  We compared the servers to ninjas, because they would slip in and fill wine and water glasses and you wouldn't even realize they were there.  And they took care of every need and were able to answer questions about everything.  You can tell that everyone there, from the chefs, to the bartender to the servers, to the pianist are excited about this restaurant and take pride in their work and the restaurant.  Along with the delicious food, perfect wines and excellent service, I failed to mention that they also have a piano bar.  Every night there will be live piano music to entertain you while you dine.  I loved that touch, the pianist picked perfect tunes to play while we ate and chatted.
Seasons 52 will be open for lunch & dinner beginning February 4th 2013.  Seasons 52 is located at 3819 Edwards Road, Cincinnati, OH 45209.  Look for them on Facebook and Twitter.
For more pictures from this event, check out the little things blog Facebook page.
Disclaimer: The writers of Family Friendly Cincinnati were offered a complimentary preview dinner of Seasons 52, but rest assured, the fact that this was a free meal away from the four wild children eating leftovers at home did not influence my opinions of the restaurant.  The opinions in this post are 100% my own based on my wonderful dining experience at Seasons 52.