If you are like my family then you already love Chipotle for multiple reasons.  Tasty, fast, fresh…just for starters.  Did you also know that you can also find super comfortable and cool clothing at Chipotle as well?   What if I told you it's also made with 100% certified organic cotton by Loomstate?  Double win, right?
Chipotle has partnered with Loomstate to offer comfortable, eco-friendly clothing choices that will also let you express your love for Chipotle.  Tote bags, t-shirts…even baby onesies…all made with 100% certified organic cotton and all sporting fun Chipotle inspired graphics.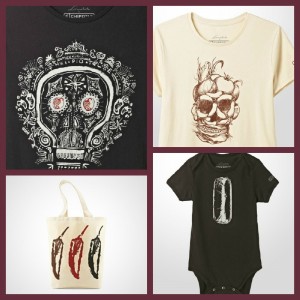 So not only can you show some love for your favorite burrito but you can also save the Earth at the same time!   I had a chance to try out some of the items from the Chipotle store and I can tell you first hand that this is the softest cotton I've ever felt.  The shirts hold their shape beautifully, the graphics are clear and sturdy, and the black t-shirts don't fade quickly after repeated washings.  These are clothing items you can feel good about wearing for multiple reasons!  Yes, they are really (really, really) comfortable and look great, but you can also feel good about helping to make a positive environmental choice when you purchase them.   Here are a few words  from Chipotle and Loomstate:
It was a natural fit when Chipotle teamed up with Loomstate, widely recognized as a pioneer of sustainable fashion, to outfit every Chipotle employee in 100%certified organic cotton clothing. Designed in the signature style Loomstate is known for, all of the graphic tees, polos, henleys, woven shirts and hats you see in our restaurants are created using organic and sustainable materials and socially-responsible methods of production.
And it was an easy step from outfitting their employees to sharing with you!   Chipotle and Loomstate recognize that food and clothing ultimately start in the same place…on the farm.  Here are a few bits of trivia for you: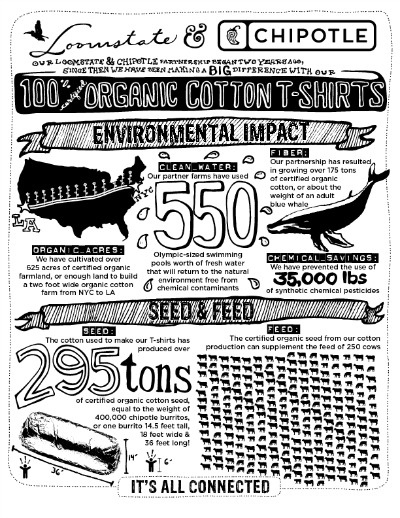 Chipotle and Loomstate have partnered for 2 years to make a positive environmental impact on the Earth
Together they have prevented the use of 35,000 of synthetic chemical pesticides
The certified organic seed from their cotton production can supplement the feed of 250 cows
The cotton used to make their t-shirts has produced over 295 tons of certified organic cotton seed.  That's equal to the weight of 400,000 Chipotle burritos!
It's easy to forget that small changes and choices can make a huge impact on our earth.   Taking reusable grocery bags when you do your grocery shopping.  Choosing locally grown produce whenever possible.  Using a reusable water bottle instead of purchasing bottles of water that will go into a landfill.  Reduce, Reuse, Recycle…always.  Now you can add dressing fashionably to that list!
:::GIVEAWAY:::
To help you make a positive environmental change FFC and Chipotle are teaming up to give one lucky winner a chance to try out some Chipotle and Loomstate items.  Winner will be able to choose up to $50 worth of merchandise from the Chipotle Store online.  Items will be shipped directly to your front door!
Here's how to enter:  You have 3 chances to enter, that's 3 chances to win.  Please leave a comment ON THIS POST for each of the following (leave a separate comment for each entry)-
Visit the Chipotle Store and tell us: Which item would you most like to add to your wardrobe?  Veg-head t-shirt? Dia de los Muertos t-shirt? (Amy Q's personal fave)  Let us know which one we'll soon see you sporting around town and you are entered to win.
Tell us one way you have made a change to positively impact our environment.  Do you always take reusable bags to the grocery?  Member of a farmshare?  Maybe you'll give us some new ideas!
Please sign up for our eNewsletter so that we can keep you up to date on all of the fun stuff going on around our beautiful city! http://eepurl.com/bxdIb
That's it…so easy!  Now for those pesky details:  Giveaway closes on Monday, February 4 at 2 PM.   Must be 18 or older to enter.  Winner will be chosen at random and notified via email.  Winner will be given 24 hours to respond and claim their prize or a new winner will be drawn.  Good luck!
If this post has got you craving a burrito bowl and some chips and queso you can find the entire Chipotle menu on the Chipotle website, and you can even order online…and they have multiple locations in the tri-state are so there is sure to be one close to you!  For more information on Loomstate, and to see their other clothing options, please visit the Loomstate website.
disclosure: I received Chipotle store merchandise to review, as well as up to $50 in store credit to give away to an FFC reader, in exchange for sharing my honest opinions on the Chipotle and Loomstate products.  The opinions contained herein are, as always, 100% my own. 
When not blogging at Family Friendly Cincinnati you can find Amy over at her personal blog In A Galaxy.