Pizza Options North of Cincinnati
We're a pizza loving family.  Nothing beats a good pizza pie – the cheese, the sauce, the crust….YUM!  Now, the only problem we have in our family is that we all have opinions and each one of us has a different favorite "go to" pizza place.  Living North of Cincinnati in Mason/Deerfield Twp., we've got plenty of pizza places to choose from.  I've listed some of the popular places close to us and we'd love to hear some of your favorites too.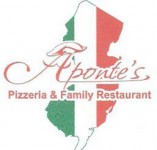 Aponte's Pizzeria & Family Restaurant –  One of the main reasons we love Aponte's is that it is locally owned and operated.  The owner, Tony Aponte, is hands on and if you dine in, you'll probably see him greeting customers or stopping by your table to check how your meal is.  The pizza is so good – it's New Jersey style and the crust is delicious plus they are generous with their toppings. They also serve pasta, subs, salads and more.   Stop in for their lunch specials too. 312 Reading Road Mason, OH 45040, Mason Ohio (513) 336-7400. Like them on Facebook.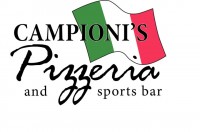 Campioni's Pizzeria Mason – Campioni's is one pizza place we all agree on.  You place your order at the counter and then your pizza is delivered to your table when ready.  They have seating for larger groups and expanded to include a small arcade area and additional seating perfect for a birthday party, scout party or team party. There is also a bar area if you head out without the kids one night and want to enjoy a cocktail.  The pizza has a thinner crust and they cut it into smaller squares.  The only problem that I find with the squares is that I tend to eat more of them since they are smaller – before you know it, the pie is gone. During the week, they have some great deals at lunch time too. They have a second location in Springboro.  6691 Western Row Rd., Mason, OH 45040 (513) 229-7709.
Comets Pizzeria – Living in Mason, we have to include locally owned Comet's Pizza – they are a small take out/delivery pizza place, although they do have a very small dine in booth if you decide to dine in.  They serve pizza, subs, calzones, salads and more.  Visit their website to see their daily lunch and dinner specials. 124 E. Main St., Mason, Ohio 45040. (513) 398-2675.  Find them on Facebook too.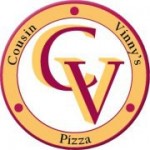 Cousin Vinny's Pizza – We haven't tried this pizza place (located off of Fields Ertel) yet but we are going to since I got an awesome deal on DoubleTake Deals – received  $30 worth of food for only $15 (deals are limited but check back on Double Take Deals to see if it's still a go). They are part of a pizza chain and offer "East Coast style pizza".  Their menu includes pizza, bread sticks and wings. Check out their pizza specials too (as I write this they had a large one item pizza for only $6.99 for pick up/take out). We're looking forward to testing them out at 4770 Fields Ertel Rd., Landen, Ohio 45249, (513) 683-2000.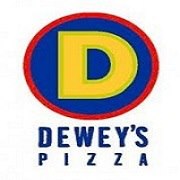 Dewey's Pizza – Dewey's is always a treat. The kids think their sauce is a tad spicy but they still seem to gobble it up.  If we have to wait for a table, seeing the pizza makers throw the dough in the air makes the wait much easier.  I love Dewey's because they have some great pizza combinations and the great names for their pies (one of my favorites is Socrates Revenge – "Olive Oil, Minced Garlic, Mozzarella-Fontina Blend, Spinach, Black Olives, Green Olives, Feta Cheese, Red Onions, Tomatoes"). Their salads are so good too.  Our "go to" location is in West Chester: 7663 Cox Ln., West Chester, OH 45069. (513) 759.6777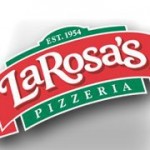 LaRosas's Pizzeria  – If you're from the Cincinnati area then you've had LaRosa's at some point.  I can recall their number to order by heart due to some clever marketing song a few years back 347-1111.  If you're an avid LaRosa's fan, then you've probably heard of their Buddy Card where you can get a BOGO pizza deal. Make sure you check online for coupons before heading out. Beyond pizza, they serve pasta, salads, hoagy's, soups and more.  They have kids' meals which are a pretty good deal since your drink is include and you get apples slices with your meal ($4.29).  We have enjoyed visiting the Mason location many times: 6674 Triway Dr. (513) 347-1111.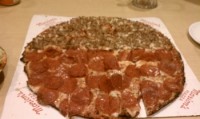 Marion's Piazza – Marion's Piazza finally opened in November 2012 and many happy customers have walked through their doors – if you pass by on a Friday or Saturday night, their lot is full and the place is hopping.  Marion's original restaurant is still operating in Dayton and they have other locations in the Dayton area. Loyal Marion's pizza lovers were overjoyed to have a location closer.  We visited on a busy night and although we all enjoyed the pizza (it's a thinner style crust cut into squares), I wasn't as thrilled with the set up since you have to purchase your pizza in one line and buy your drinks in a second.  Since I was initially there with just the kids, it was a bit frustrating to try to find a table, order the pizza, then hop in a second line to order drinks.  Luckily my husband showed up in time to help locate a table. Their dining room is large but on a busy night, without a host coordinating seating, it can be a bit overwhelming.  They also serve salads, pasta & sandwiches. We're going to give it a second try but visit on a less crowded night or for a late lunch/early dinner. They also have a separate dining room you can reserve for birthday parties or team parties and have a game room area too. 6176 Soundswave Blvd. (off of Tylersville Rd.), Mason, OH 45040. (513) 398-9998.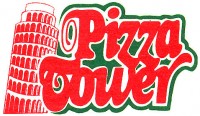 Pizza Tower – I've posted about Pizza Tower before (July 2010) and it's still my daughters' favorite pizza place. It's very kid-friendly and if you have young kids, you might want to request seating on the first level – they have a large screen TV in a center viewing area that plays kid friendly shows while they wait.  They also give each child some pizza dough to play with at their table. Visit them online to see some of their current specials: on Tuesday, it's timed Tuesday starting at 4:00 p.m. (a medium 1-item pizza is the cost of the current time), Wednesday nights it's kids eat free night and two kids can get a personal 1-item pizza with an adult minimum purchase of $5.  8945 Governors Way, Cincinnati, OH 45249. (513) 683-8400. Visit them on Facebook too.
Westshore Pizza Mason – Even though Westshore Pizza is part of a national pizza chain, it still has a non-pizza chain feel since it is locally    before ordering since they usually have some great coupons. We just placed an order for a buy one pizza get a second at 1/2 off.  If you dine in, they always have their "Any Time Special" combo meal for $6 – get 2 slices and a drink (if you have kids they may be able to split this since the pizza slices are a good size) or get a slice, bowl of soup and a drink or a slice, side salad and a drink. On Tuesday nights they have kids night and you can get $1 off kids meals ($4.49) plus they will have entertainment such as Looney Ballooney there from 6-8 p.m. They also serve wings, salads, Philly cheesteaks, oven-baked grinders & hoagies, sandwiches and more. Visit their Facebook page for updates on their special events. 6176 Tylersville Rd., Mason, OH 45040 (513) 754-8200.
There are so many other pizza places to visit and we've got plenty of national chains too – Domino's Pizza, Pizza Hut, Donato's, Marco's Pizza, & Jett's Pizza to name a few.  Leave a comment and let us know some of your favorites near you.
When not blogging for Family Friendly Cincinnati, you can find Kristin writing on her personal blog, MasonMetu (from me to you).