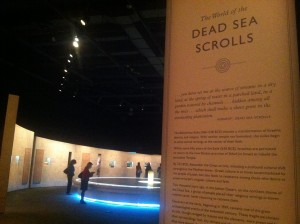 Celebrate everyday life as a family by learning about life in ancient times with Cincinnati Museum Center's traveling exhibit Dead Sea Scrolls: Life and Faith in Ancient Times. See one of the most comprehensive collections of ancient Israeli artifacts including prayer alters, textiles, beautiful mosaics and the oldest known copies of the Hebrew Bible. See how the past has shaped our future today.
Residing in the Cincinnati Museum Center through mid- April, this must -see exhibit will certainly evoke interest and wonder in the youngest child through the oldest adults. Be drawn into the ancient world by live-acting exhibit interpreters and immerse yourself in a time 2000 years in the past. You will be engaged in the presence of artifacts that have endured centuries. This powerful and educational exhibit presents
lessons in the importance of everyday life, and your family will leave with a sense of togetherness.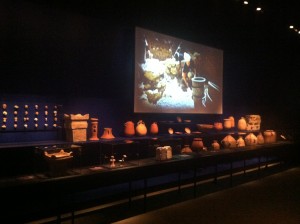 Among the 600 items in the exhibit is an important and educational artifact: pages from the Book of War. This book conveys the story of the epic battle between good and evil; right and wrong. Children and adults alike will certainly be moved by these writings and the faith ancient people had in its scripture. Also, visit a spectacular cast section of the Western Wall – visitors can choose to leave prayers that will be collected and sent back to Israel.
So, gather up the family and visit the Cincinnati Museum Center's Dead Sea Scrolls: Life and Faith in Ancient Times today where you can learn and marvel together.
Museum hours are Monday through Saturday, 10 a.m. to 5 p.m. and Sunday, 11 a.m. to 6 p.m. Tickets for non-museum members are $23 – adults, $15 – children, $20 – seniors (60+). Tickets for museum members are $15 – adults, $10 – children (ages 3-12).
———————————
This family-friendly special was written by Enjoy the Arts. Enjoy the Arts connects young audiences with the best of arts, culture and entertainment in Greater Cincinnati. We enrich lives and inspire audiences to engage in Cincinnati's world-class arts scene. With an Enjoy the Arts pass, you get inside scoop on where to be, and free and VIP access to performances and events. To learn more, visit enjoythearts.org.