It's post holiday season which means back to the grind…school, work, chores, blah.   No major events to look forward to and apparently no snow either, which is, in my opinion, the best part of this time of  year.  Can't play outside because it's way too wet and dreary and cold.  Inside gets boring way too fast.  What in the world are you to do?
Bounce away those "blahs" at Lazer Kraze…that's what!  There's no better way to expend a little energy and bring a smile to your face than to spend a little time jumping, bouncing, and laughing in Lazer Kraze's new indoor trampoline arena!  The Erlanger Lazer Kraze location has a fantastic indoor trampoline arena where you can bounce to your heart's content and give your whole mood a boost.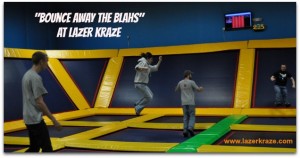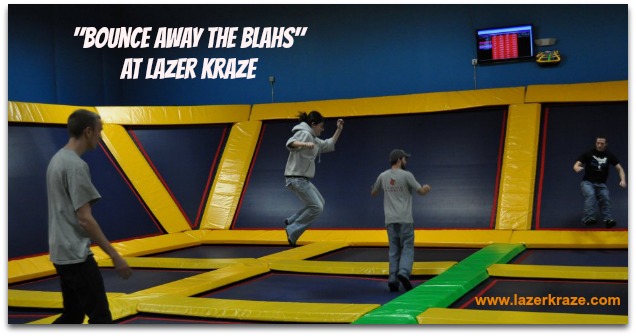 Not just for kids, this amazing indoor trampoline arena lets you jump off the walls, play air dodgeball, or just jump!   You can even drop in for fitness classes starting Feb. 5.   They also have a Fit Kids Club where your child can jump for one hour  and burn off some energy (and get some much needed wintertime exercise!)  Fitness classes and Fit Kids Club fills up quick so call ahead for reservations.
In between jump sessions in the trampoline arena you can spend some time on a lazer tag mission in their amazing multi-level lazer tag arena.  It's like being inside a video game!   Pulsating music, super cool lighting effects, smoky haze…you can blend into the scenery and blast the enemy targets with glee!


Need a break from all of that jumping and tagging?  They have an arcade with great games, tables to rest and have a snack from the snack bar, or you can even watch other lazer tag teams in the arena from the observation deck.  It's a perfect way to blast away those blahs.
Lazer Kraze has a ton of great events such as all you can play lazer tag times, specials (such as Wacky Wednesday with all you can play lazer tag from 6-9 PM or Munchkin Madness on Saturdays when the younger kids (12 and under) can play without the big kids around) and they host fabulous birthday parties!   Even the "big" kids love Lazer Kraze (and when I say big kids I mean my husband who loves to take the kids and some of his buddies to play a few missions…it's great Daddy /kid time!)
*TICKET GIVEAWAY*
One visit and you will be hooked, that's for sure.  We want you to give you a chance to "bounce away those blahs" so we are giving away a Bounce Away the Blahs Lazer Kraze Fun Pack!
We are giving you: 4 Lazer Tag mission passes and 4 Indoor Trampoline Arena passes (trampoline passes good only at the Erlanger Lazer Kraze location).  All you have to do to enter is leave a separate comment ON THIS POST telling us you did the following:
Sign up for our Enewsletter: http://eepurl.com/bxdIb
Check out Family Friendly Cincinnati and Lazer Kraze on Facebook (and 'like' us too!)
Follow us on Pinterest: http://pinterest.com/FamFriendlyCin (where you can find lots of other great ideas like recipes, crafts and so much more!)
That's it…that's three ways to enter which means three chances to win!  Winner will be drawn  Monday, January 21 at 2 PM and notified via email and announced on our Facebook page.  Contest is open to Tri-State residents ages 18 and up. Winners will have 24 hours to respond or another winner will be chosen.
Lazer Kraze has 2 locations in the Greater Cincinnati area:
Erlanger Location: 1335 Donaldson Road, Erlanger, KY 41018   (859) 371-KRAZ (5729)
Deerfield Township: 3187 Western Row, Maineville, OH 45039   (513) 339-1030
Please visit the Lazer Kraze website for lazer mission and trampoline arena hours and prices as well as to check up on the newest specials.  Good Luck!
Disclosure: Lazer Kraze is an advertiser here at FFC. They were kind enough to offer us these passes to giveaway to our readers.