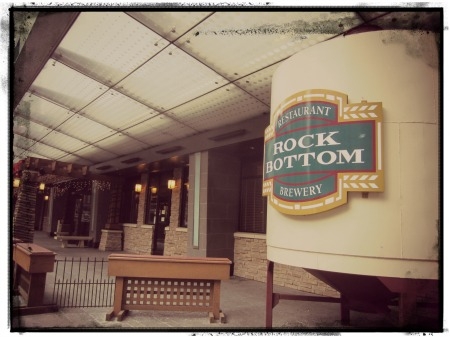 Are you looking for a family friendly place to take the kids for a meal?  Somewhere that the parents will enjoy as well?  Might I suggest Rock Bottom Brewery on Fountain Square?  It's a great place to dine for the whole family.  They are open for Lunch and Dinner (and have a pretty great happy hour specials as well).  They are open from 11am until 11pm Sun-Thurs and until midnight on Fridays and Saturdays.  They brew their own beer and make their food from scratch, what more could you want?
We have been to Rock Bottom Brewery a few times without the kids, so this week was the first time I had been there with the children.  We were on our way to the Aronoff Center to see a show, and wanted to have a bite to eat before-hand.  I went with my cousin and her 2 year old son, so it was a Mommy-Son date lunch with two mamas and three boys under
the age of five.  I was a bit nervous about taking them to lunch at Rock Bottom during the peak lunch time downtown.  I was afraid their noise would irritate all of the business folks there for lunch.  I was also afraid if there was a lunch crowd that we'd have to wait…for a table, for food, etc.  But I was wrong on both counts.  One of the things that makes Rock Bottom Brewery family friendly is that it is loud.  Not in a "shout to be heard" kind of way, but loud in the way that my children's <sometimes noisy> voices were drowned out by conversations and laughter.  And even though the place appeared packed, we didn't wait at all for a table.  And not only was our waitress super-friendly and helpful with the kids (she brought them a plate of cherries because they all wanted the cherry that was in my cousin's drink), but she was also super-speedy.  I felt like we didn't wait long for anything.  She was quick to take our order, quick to bring our drinks, and kept checking up on us periodically.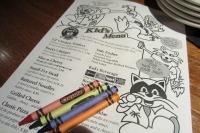 The kids were entertained by the coloring sheets & crayons and by all the hustle and bustle around them.  Rock Bottom does have a great kid's menu, but we opted for appetizers instead of lunch, so they had what we were having.  We all split a few appetizers, and the portions were HUGE and we were all stuffed in the end.  The prices were great too.  I had a terrible time deciding what to eat, as their menu has so many choices.  And a great variety of choices too!  Not just your typical bar food fare.  We ended up getting the soft pretzels (which come with a delicious cheese dip), the nachos (enough to feed a small army), the Kobe Beef sliders and a side of fries at the munchkins' request.  The food was all perfect.  And of course I also sampled one of their beers, the IPA, and it was scrumptious.  I love that they brew their own beers!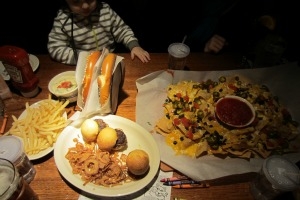 During the warmer months you can sit outside at Rock Bottom Brewery, which would be extra awesome if there is live music that night.  If you haven't been to Rock Bottom yet, consider making a trip downtown to dine there very soon!  While you are down there make a day or evening of it!  See a show at the Aronoff or the Taft, check out the Contemporary Arts Center  and UnMuseum (free on Mondays after 5pm!), or do some shopping.  There's so much to do and see downtown!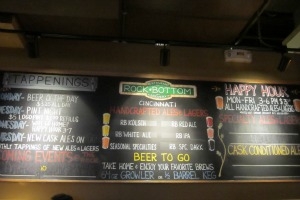 Rock Bottom Brewery is located on Fountain Square (10 Fountain Square Plaza) in Cincinnati.  513-621-1588
Visit their website or Facebook Page for more information