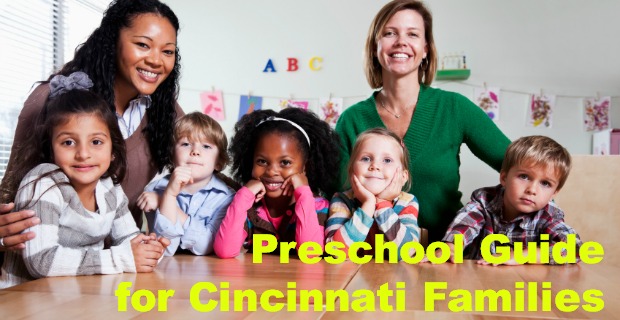 Preschool Guide for Cincinnati and NKY Families
When I was a new mom, I had no idea January was the month to start looking at and choosing preschools. No one tells you these things!
Luckily, I had a friend (Karen, now a fellow FFC writer) who did the legwork for me. I managed to get my daughter into a good preschool thanks to her.
Now, my son is 3 and I'm going about the search a lot differently. I'm better informed, so I know what to look for, which questions to ask, how to evaluate schools, etc. And I wanted to share what I've learned over the years to help all you prospective preschool parents out there in the tristate area.
Getting started:
I already imparted one very important piece of advice in this post, but it's worth repeating: January is preschool shopping season. So get on it.
Many preschools will host open houses during the month of January (and sometimes February), so parents can bring in their children and get a chance to sample the goods. As you look at various schools, mark your calendar for the open houses you'd like to attend, and note when registration occurs or applications are due. The good schools usually fill up quickly, and if you wait too long, your child may end up at the bottom of a long waiting list.
Of course, preschools will let you come in at other times, too, so don't sweat it if you miss an open house.
Pre-K: It's kind of a big deal
Perhaps you grew up as a child of the 1970s or '80s like me, going to "nursery school" or "playschool," a place where you messed around with finger paints, sang silly songs and snacked on juice and crackers. Your parents might have sent you there for a year or two, hoping those few hours a week would socialize you enough so you wouldn't freak out when the bus dropped you off the first day of kindergarten.
If you haven't already heard, early childhood education has come a long way, baby. Those first few precious years (including preschool) form the foundation for the rest of a child's life, both in and out of school. And research shows that for kids who miss out on a solid preschool experience, there's no catching up. That's serious pressure on us parents, right?!
Here's what kids get out of preschool (just the highlights, mind you):
If you weren't already convinced that preschool is paramount, I hope I've nudged you toward considering it.
Start your search
You could spend a bunch of time Googling preschools — or you could reap the rewards of my labor over the holidays. I put together a searchable directory of more than 300 preschools throughout Greater Cincinnati, Northern Kentucky and Southeastern Indiana. I personally went to each school's website and verified the information included in our directory, so you don't go on any wild goose chases.
Feel free to search by ZIP code, educational philosophy (play-based/traditional, religious, Montessori, etc.) or keywords. We're working on making this directory even easier to use and more robust — but the info is all there now and ready for you to dig in.
When not blogging for Family Friendly Cincinnati, you can find Susan writing at her personal blog,Working Moms Against Guilt.