Enjoy the Arts: Connecting you with the region's best arts and entertainment.
Hilarious Entertainment for Holiday Lovers & Grinches Alike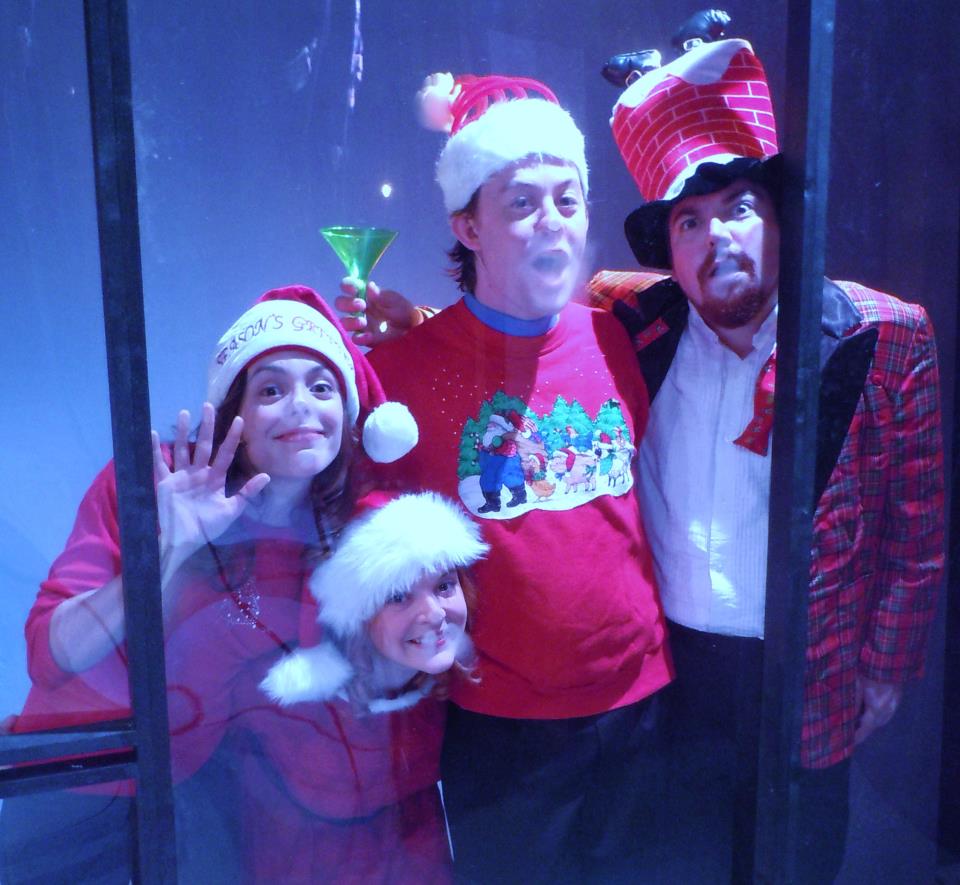 The holiday season is an ideal time to hit the town for a date night with your sweetheart. This month, shake things up with some festive adult fun. For an entertaining date night full of hilarious holiday cheer, head to Cincinnati Shakespeare Company for a performance of "Every Christmas Story Ever Told (And Then Some!)"
Back for its seventh year, Every Christmas Story Ever Told (And Then Some!) is a ridiculously fun production that puts a twist on all the traditional Christmas tales and rolls them into one comedic package. You and your honey will be howling with laughter as three actors and a tipsy Santa serve up a full-season of holiday cheer in ninety uproarious minutes. With a little help from the audience, the talented actors at Cincinnati Shakespeare Company evoke non-stop laughs in this adult-oriented holiday performance. "This production will certainly appeal to audiences looking for relaxing, adult holiday amusement." Director Jeremy Dubin remarks.
The demand for Cincinnati Shakespeare Company's popular annual holiday production of "Every Christmas Story Ever Told" has become so great that they've just announced the addition of 4 additional performances. Featuring Sara Clark, Billy Chace, Justin McCombs and Miranda McGee, "Every Christmas Story Ever Told" pokes plenty of fun at the holiday season. "With a running time of only ninety minutes, it is the perfect way to celebrate the holidays during this busy time of year!" says Producing Artistic Director Brian Isaac Phillips
So, give yourself a break from holiday preparations, grab a date and don't miss this side-splitting, interactive take on all your "Beloved Holiday Favorites." Cincinnati Shakespeare Company has been granted a temporary liquor license for this production so holiday spirits will be available for your enjoyment!
Performances of "Every Christmas Story Ever Told (And Then Some!)" are scheduled from Dec. 16- 30, 2012.  Performances on Dec. 16, 18, 19, 20, 21, 22, 23, 27, 28, 29 & 30 are at 7:30pm.  Performances on Dec. 22, 23, 29 and 30 are at 2:00pm.  Performances on Dec. 22, 23, 29 & 30 are the 4 dates newly added and have the best seat availability.  All performances are held at CSC's Theatre, 719 Race St.  All tickets are $25. Tickets will sell out so be sure to act quickly: http://www.cincyshakes.com/every-christmas-story-ever-told-and-then-some.html.
No discounts or passes apply.
——————————————
This date-night special was written by Enjoy the Arts. Enjoy the Arts connects young audiences with the best of arts, culture and entertainment in Greater Cincinnati. We enrich lives and inspire audiences to engage in Cincinnati's world-class arts scene. With an Enjoy the Arts pass, you get inside scoop on where to be, and free and VIP access to performances and events. To learn more, visit enjoythearts.org.