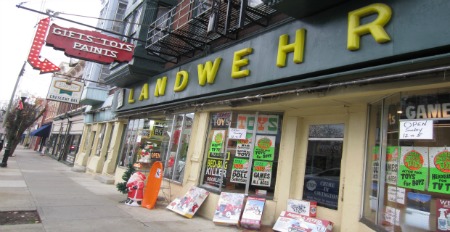 This Christmas season I have been trying very hard to do the majority of my gift shopping at small businesses and locally owned stores.  Last week I asked our awesome readers on the Family Friendly Cincinnati Facebook page what their favorite locally owned toy stores were.  And one reader mentioned a store that I love, Landwehr Hardware & Toys.  It seems odd that a hardware store would also sell toys…but they do!  This isn't just a hardware & toy store, they seem to have just a little bit of everything packed into this store.  It's a wonderful mom & pop store full of treasures and when you walk in you feel like you are taking a step back in time. Shelves surround you jam-packed with all kinds of useful & cool items.  Landwehr Hardare & Toys is family owned and operated, and John, Zach & Linda are super friendly and helpful!  I'm convinced they have EVERYTHING in that store somewhere!  For example, see the picture below, this is just a small sample of what their shelves look like – Holy Statues, S&P shakers, Bubble Lights & Cowbells.  They also sell dishware, cast iron skillets, dutch ovens, wash boards, grills, pet supplies, galvanized tubs.  Everything I tell you.  Everything!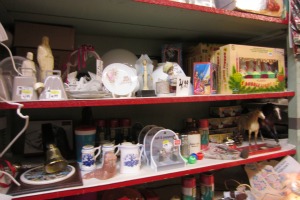 When you arrive at the store you are greeted outside with a collection of holiday decorations and a few cool toys lik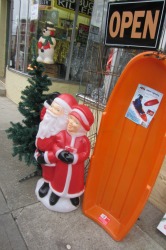 e Radio Flyer Wagons.  The holiday decorations outside are just a sampling.  They have mini-faux Christmas trees, large plastic light up decorations (Santa, the Nativity Scene and more!), they have lights of every size shape and color…including musical lights AND bubble lights!  They also have a bunch of replacement bulbs, which is so handy this time of year when you take the lights out and find some burnt out.  They also have small Nativity Scenes, light up candles for the windows, icicles for the tree, garlands in many colors and more.  Some of these decorations were definitely a blast from my past!   And sleds…oh they have a HUGE selection of sleds!  The back room is full of Flexible Flyer sleds…stacked by the walls & hanging from the ceilings.  Flexible Flyer sleds are the old school wood sleds with metal rails on the bottom.  Their prices seem lower than those I've seen online.  They also have plastic toboggan sleds, and saucers.  Sleds of all sizes and colors.  I'm definitely heading back down there soon to stock up on sleds.  We have one sled and four kids, it's just not working anymore..we need a few more!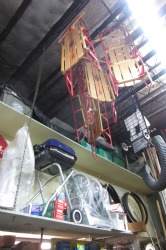 If you are looking for Toys, Landwehr is the place to go!  They have a large room filled with all sorts of great toys, at great prices (see picture below).  They have toy trucks, a HUGE selection of Radio Flyer Wagons, Barbie Dolls, coloring books, puzzles, games, tea sets, and so much more.  Sure, their toy selection is not as large as your local big box toy store, but they sure do have a lot to choose from!  And I think their prices were quite reasonable, much like those I've seen in all the other big stores.  This holiday season I'm not looking for bargains so much as looking for better ways of shopping and supporting small businesses.  You should stop by this shop before the holidays, who knows you might find exactly what you are looking for to give the kids in your life!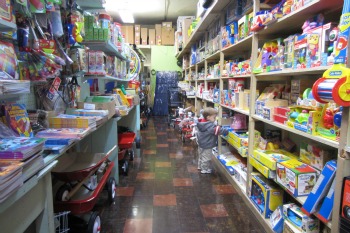 Landwehr Hardware & Toys has been around for a very long time.  When I asked the owner just how long they've been around he said "forever".  It's a great hidden gem of a store in Covington, and I think you'll love it as much as I did!
Landwehr Hardware & Toys is located at 826 Madison Avenue in Covington.  Their phone number is 859-581-5080.  Stop by and see them soon!  Their hours are Monday – Saturday 9-5:30 (Open Sundays 12-5 only until Christmas).