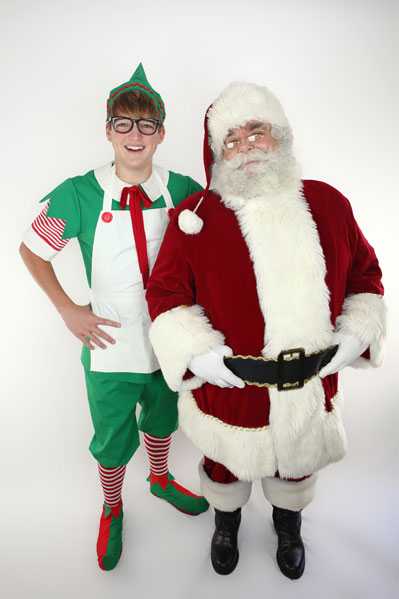 The Children's Theatre of Cincinnati has been delighting audiences with their wonderful productions since 1924, so chances are you've been to at least one show and have seen firsthand one of their amazing performances.  I have been to several myself and couldn't really pick my favorite even if I was asked…I've loved them all and so have my kids.  The holiday productions are my favorites though…I've got a soft spot for Rudolph the Red-nosed Reindeer and Christmas makes me cozy.
The holiday performances are always highly anticipated.  This year you not only get to enjoy an incredible performance by the talented actors of the Children's Theatre but you also get an all-star lineup consisting of LOCAL 12's morning team, anchor Bob Herzog and meteorologist John Gumm, as the Miser Brothers and American Idol's youngest Top 24 hopeful Eben Franckewitz as the lead character, Wendell the Elf, in this year's production of "Santa's Toy Factory"!
Here's a little about the show from The Children's Theatre of Cincinnati:
Santa's Toy Factory takes us on a trip to the North Pole to visit all the hard working elves readying Santa's Sleigh for his Christmas Eve journey. Poindexter, the head elf, is busy keeping everyone on task to create all the new high tech toys he thinks the children of the world want. All seems to be going well with the exception of the Holiday Spirit Meter dipping very low. Everyone must have Christmas Spirit in order for Santa's sleigh to take off. Wendell, a kind and gentle elf, is having a very hard time finding his Christmas Spirit because he doesn't want to make high-tech toys, just simple, old-fashioned ones like teddy bears. As soon as Santa hears about Wendell's dilemma, he takes him on a fantastic journey to find his Christmas Spirit. We travel with Santa and Wendell as they visit Rudolph, Blitzen, Dasher and all the other reindeer, the North Pole Penguins, the Heat and Snow Miser Brothers with all their minions and the magical Frosty the Snowman! Wendell, with Santa and everyone's help, discovers that the real Spirit of Christmas is the joy of a happy heart and the magic of a holiday wish.
I don't know about you but I can't wait!  Bob Herzog is no stranger to The Children's Theatre of Cincinnati stage.  He appeared as Capt. Hook in Disney's Peter Pan JR during the 2010 season (and he was fabulous, I can attest to that personally!) and as Gaston in Disney's Beauty and the Beast JR as well as Genie in Disney's Aladdin JR.    The Miser Brothers (Snow and Heat..can you name that Rankin/Bass production?) are some of my favorite holiday characters and I get the Heat/Snow Miser song in my head all year around.


"Santa's Toy Factory" runs through December 15 at the Taft Theater downtown at 317 East 5th Street in Cincinnati.
Show times are:
7:30 p.m. Friday December 7
2 p.m. and 5 p.m. Saturday December 8 & 15
2 p.m. Sunday  December 9.
Tickets cost $7-$25 and are available at  www.ticketmaster.com or by calling 513-569-8080 ext. 10.
disclosure: I was provided with tickets for my family to attend a performance of the show as well as 2 family 4-packs of tickets to give away to lucky readers in exchange for sharing information about the show on Family Friendly Cincinnati.  The views expressed herein are, however, 100% my own. 
When she's not blogging at Family Friendly Cincinnati Amy Q. can be found blogging at her own blog, In a Galaxy.