Chuy's Mexican Restaurant in Florence, KY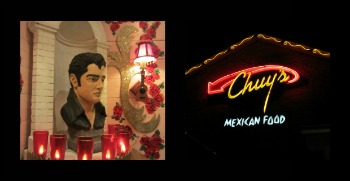 Last week I escaped my house for a few hours for a Mama's night out and we headed to a new restaurant in Florence: Chuy's Mexican restaurant.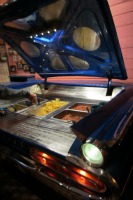 Before we had even been seated at our table I had fallen in love with the place.  There was a huge crowd waiting for tables, but the wait was quite short considering the number of folks there (10-15 minutes).  The manager encouraged us to check out the bar area because it was happy hour, and along with drink specials they had a FREE nacho bar from 4-7pm (weekdays only).  The nacho bar is in the trunk of a car (see pix) and it was so yummy!  Chips, salsa, guac, taco meat, cheese and more!  Chuy's is known for their fresh foods, and for making their meals from scratch.  You can tell when you eat their food that it's not canned food.  You can taste the freshness & flavor of a good home-cooked tex-mex meal.   In fact, you can even watch them make your food, there is a window into the kitchen in the dining room.   I had the Steak Burrito, and it was simply out of this world.  And my friends loved their food too.  One friend had the Baja tacos and the other had the Chicka-Chicka Boom-Boom Just writing about the food at Chuy's is making me want to go back again!  And best of all, the prices were more than reasonable!  Many of the meals were under $10, so I could take the family and not break the bank!

I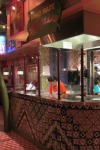 went with girlfriends, but throughout the meal I kept thinking that I couldn't wait to take the whole family.  It's most definitely a family friendly place to dine.  It is boisterous and fun.  They have several rooms full of tables for dining, and the tables are pretty close together, but I didn't feel like it was too loud or crowded, I could hear our conversation fine despite the fact that the place was packed.  The decorations are outlandish and wild…palm trees in the middle of the dining room, and another room with hubcaps covering the ceiling.  There are also 39 little flamingos hidden throughout the restaurant for kids (or adults!) to find.  There are 39 flamingos because this is the39th location of Chuy's to open,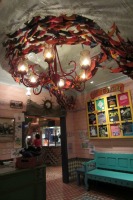 but it's the only one in our area.  I was quite impressed with the staff and service at Chuy's.  Considering they had only been open a few days they seemed to have everything under control.  The staff is awesome, helpful and friendly.
So have I convinced you that you  need to try Chuy's yet?
Chuy's is located at 6825 Houston Road in Florence  (859) 525-4289