I'm not sure how it's happened (didn't I just put the pool bag away?!) but we are already on the edge of my favorite time of the year…the Holiday season!  Everyone is planning their Thanksgiving menu and Black Friday shopping trips or making travel arrangements to go over the river and through the woods to Grandma's house.  I'll admit, I've already gotten a few Christmas decorations out at the urging of my youngest son.  He's just like me…once Nov. 1 hits I am ready for the fun to begin!
One of my favorite things to do as a child was to take the bus downtown with my sister, mom, and grandmother and take in all of the amazing holiday displays.  Trains, department store window displays (remember Shillito's elves?  Just me?  Wow, I am old!), Fountain Square ice rink…there was SO much going on downtown for the holidays!  That is one thing that has never changed though…you can still find so many amazing activities downtown and in Over the Rhine.
Family Friendly Cincinnati doesn't want you to miss a thing when it comes to holiday fun and thanks to Downtown Cincinnati,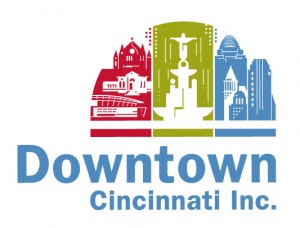 Inc. and OTR Chamber you won't have to!  We have the scoop on ALL of the amazing events going on in both Downtown and Over the Rhine this holiday season!
First of all don't miss out on the official kick-off to the holiday season by making sure you attend the tree lighting on Fountain Square the day after Thanksgiving! The tree will sparkle with 25,000 lights and an illuminated, five-foot-tall red star, fireworks, and a visit from Santa Claus.  The  festivities begin at 6:30 p.m. on Nov. 23, tree lighting is at 7:25 p.m.
A great way to get around and see all of the holiday sights is to ride Metro's Holly Jolly Downtown Trolley.  The trolley runs Friday, November 23 and Saturdays, November 24, December 1, 8, 15, 22,  from Noon to 5 p.m. and it's FREE!  The trolley runs down Fourth, Fifth, Pike and Elm Streets with boarding in front of The Westin Hotel on Fifth & Vine Streets.
Some of the Downtown highlights for this season are:
Holiday Junction Featuring the Duke Energy Holiday Trains at the Cincinnati Museum Center now through January 6.  These trains have become a beloved Cincinnati holiday tradition..don't miss out on building new family memories with this wonderful display.
U.S. Bank Ice Rink opens on Thanksgiving Day on Fountain Square!   U.S. Bank Ice Rink on Fountain Square is Cincinnati's favorite outdoor ice rink. Cost is $3 to skate, $3 for skate rental. Hours: November 23-January 1, 2013: Sunday-Thursday, 10 a.m.-10 p.m.; Friday-Saturday, 10 a.m.-midnight. (Santa Skates are held on Saturdays and Sundays, November 24 to December 23, noon-1 p.m.
Christkindlmarkt on Fountain Square from November 23–25.  Stroll through an authentic German Christmas market in Downtown! Find traditional gifts and tasty treats from vendors in custom-built wooden houses during this inaugural holiday event.
Weekend Carriage Rides at Macy's Celebration Station on November 24–25, December 1-2, December 8-9, December 15-16, from Noon–5 p.m.  The carriage boards at the corner of Fifth and Race Street and it's FREE!  There's no better way to see the city at this time of year!  Final boarding is at 4:45 so please arrive early.
Holiday Dazzle Days on Saturdays- Dec. 1, 8 & 15 from 1-4 p.m. Public Library of Cincinnati and Hamilton County hosts
FREE performances for the family and crafts for the kids to celebrate the holidays. Entertainment includes: Zak Morgan (1 p.m.), CCM Tenor Will Reed (3 p.m.) on December 1; Madcap Puppets (2 p.m.), Little Golden Book Characters on December 8; and David Kisor (2 p.m.) on December 15.
The Children's Theatre of Cincinnati's "Santa's Toy Factory" –featuring LOCAL 12's morning team of anchor Bob Herzog and meteorologist John Gumm as the Miser Brothers  and American Idol's 16 year-old Eben Franckewitz Santa's Toy Factory takes us on a trip to the North Pole to visit all the hard working elves readying Santa's Sleigh for his Christmas Eve journey.  Show times are 7:30 p.m. Friday December 7, 2 p.m. and 5 p.m. Saturday December 8 & 15, 2 p.m. Sunday December 9 at Taft Theatre.  Tickets are priced $7-$25 and are available through ticketmaster.com.
Ho! Ho! Ho! It's THE Santa at Macy's Fountain Place!  Fridays and Saturdays, November 23—December 22; 11 a.m.—8 p.m.  Sundays, November 24—December 23; noon—6 p.m.  December 24; noon—6 p.m.  This is a FREE event! Bring your own camera for photos with downtown's only Santa in a festive North Pole setting. FREE, courtesy of Macy's!
Macy's Downtown Dazzle on Black Friday Weekend- Saturday, November 24, 6:30 p.m. (choirs at 5:45 p.m.) on Fountain Square.  ALL NEW! Macy's Downtown Dazzle continues on Saturdays, Dec. 1, 8, 15.  This event is FREE! Forget coming down the chimney, now Santa comes down the side of a building! Each Saturday Santa rappels down the 525 Vine Building office tower to the Macy's rooftop to kick off a spectacular holiday fireworks display. Macy's Downtown Dazzle takes place Saturdays on Fountain Square. After the fireworks, go to Macy's for special gifts with purchase throughout the store and visit with friends from the Chriskindlemarkt.  After the fireworks on Nov. 24 you can cozy up for story time with Mrs. Claus inside Macy's Fountain Place on the third floor courtesy of Macy's.
Last-Minute Shopping (Just for Men) on Thursday, December 20, 5-8 p.m. Bring your buds downtown to finish your holiday shopping and find happy hour specials, gift advice, and a few surprises as the 2012 shopping season comes down to the wire.  This is an ALL new event (and I hear sighs of relief from every man in the Greater Cincinnati area!)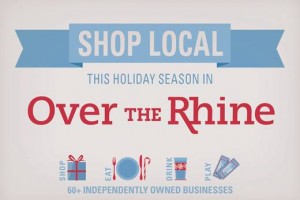 And that's just Downtown! Over the Rhine has so many opportunities to shop local and help support the community (don't forget Small Business Saturday on November 24!) and many wonderful holiday events to attend.  Here are the highlights:
Spirit of Christmas Tours with American Legacy Tours-November 23,24; December 1,8,15, 22.  Enjoy church and holiday history tours in Over-the-Rhine with some of the best tour guides in the city!   We enjoyed our Haunted Covington tour led by the gentlemen of American Legacy Tours and can't wait for the Spirit of Christmas tours as well.  Visit www.americanlegacytours.com for more information.
Over-the-Rhine A-Glow -This new event kicks off on November 30.  Residents, businesses and nonprofits come together for seven nights of lights in Historic Over-the-Rhine. Between 5:30PM to 10 PM participants will set the windows of OTR (up and down) a-glow with creative displays. Originality is rewarded, but all entries must include three things: non-flammable light source; holiday theme; celebrate OTR, its history, or traditions. Celebration and awards party on Sunday, December 8.  Learn more about OTR A-Glow at www.otraglow.com
Caroling in the Quarter on Saturday, December 8.  Come to Over-the-Rhine and enjoy the restaurants and shops as local choirs and roving carolers perform throughout the neighborhood, spreading holiday cheer!
Santa in the Bandstand in Washington Park on Saturdays in December.  Come visit Santa, his jolly elves and enjoy kid workshops!  Learn more about Washington Park events at www.washingtonpark.org
Light Up OTR on Friday, December 14.  Light up OTR is a community-based Holiday party hosted by Agar, formerly Ionic Collective. Guests assemble in Washington Park at 6PM to assemble luminaries, then distribute over 1,000 luminaries throughout OTR starting at 8PM. Once the candles are all lit, all guests are welcomed back to an OTR gathering spot for the lighting of the holiday Christmas tree with entertainment and fun.
4th Annual Holidays in the Bag on Friday, November 23.  Avoid the rush of the malls by shopping OTR for unique, local gifts in a relaxed environment. Buy the official "Holiday Bag" and receive a discount at participating stores. Proceeds from the 2012 sales of the holiday bags benefit Elementz,  a non-profit that inspires and engages inner city youth through innovative hip hop arts programs, leadership development and community building.
City Flea Wrapped Up Holiday Market on Saturday, December 8.  A festive nighttime event modeled after European Christkindlmarket mixed with all the standard City Flea elements you have come to love.  Learn more about City Flea: thecityflea.com
Last but certainly not least…we are very proud to announce the 2nd Annual Visit with Santa and a Firefighter at the Fire Museum of Greater Cincinnati!  This is our second year sponsoring this wonderful event (a look at last year's event here and here)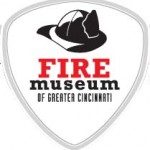 and we can't wait to see all of your bright and shining faces on Saturday, December 15 from 9 a.m.-10:15 a.m.  Come and have breakfast with the ONE and ONLY Santa Claus who is taking a break from his busy Macy's schedule to visit with us on this special day!  The new Panera Bread in Downtown is providing a lovely breakfast after which you will get a tour of the fire museum, listen to a story told by a real fire fighter, have fun with some holiday crafts, and then give your wish list to Santa in person!  Bring your camera and take plenty of photos…this is a one of a kind event!  Last year's event sold out fast and registration opens on November 28 so stay tuned for the announcement and get your tickets quick!  This event is co-hosted by the Fire Museum of Greater Cincinnati, Downtown Cincinnati Inc., and your very own Family Friendly Cincinnati!  Food provided by Panera Bread.
This is only the highlights!  Dowtown Cincinnati Inc. will be keeping everyone up to date on the happenings around town by posting videos, photographs and updates from events, shops and restaurants using Facebook, Youtube and Twitter under the keyword: DowntownCincy. Registration is free.  For the entire Downtown Holiday Guide please visit our friends at www.downtowncincinnati.com and download a copy or pick one up from the US Bank Ice Rink on Fountain Square or the Visitor's Center on Fountain Square, and make sure to check out the OTR Chamber website for full updates on all of the happenings in Over the Rhine this holiday season!