If you love Cincinnati as much as I do, you probably want to share that love with your kids.
As the mother of a 3- and 6-year-old, I've shown my kids much of our beloved city. I've also tried to explain the whole "neighborhoods" concept ("You see, Cincinnati is a great big area that's made up of lots of little areas called neighborhoods, like Hyde Park, Avondale, Northside…"). Then there's the whole Ohio River thing ("Ohio is on one side of the river, Kentucky is on the other — that's right, they're DIFFERENT STATES!").
But for all the books stacked on their shelves (and scattered throughout our house), we didn't have a single one about Cincinnati.
That is, until we had the pleasure a few weeks ago of attending a book signing at blue manatee children's bookstore and decafe for Cincinnati – Our City, Our Story, a guided tour of greater Cincinnati, and its people, places, and history. This amazing children's book was written by Louise Borden and illustrated by some very talented young artists, who attended the signing and were available for photo opps.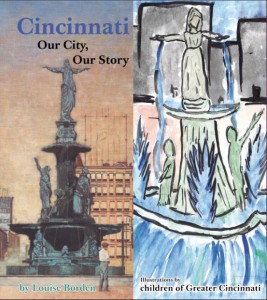 My 6-year-old Cassie first read the book with me in the decafe over cookies and milk, right after we bought the book in the bookstore. She carefully paged through Cincinnati – Our City, Our Story, recognizing local landmarks we've seen before and discussing the artwork. "Wow, this one was done by a 6-year-old, Mom!" she said gleefully.
After reading the book, she enthusiastically lined up to get autographs and pictures with the author and the children who illustrated the book. You would've thought we were on the red carpet for a major Hollywood premiere!
While Cassie got her autographs, I learned more about how the book came about. Developed by the Cincinnati Storyteller's Project, a sub-group of the volunteers of C-Change Class 7, the book was created from a desire to evoke civic pride and family activity in the City of Cincinnati while promoting child literacy in the community. What better way to tell Cincinnati's story than through the eyes of local children, right? The end project was Cincinnati – Our City, Our Story.
Their vision came to life through a community collaboration of local groups, businesses and individuals including Louise Borden who donated her talents to write the text, local artists Loren Long, Will Hillenbrand and C.F. Payne who donated their talents to collaborate on cover artwork, and blue manatee press which donated its services to publish the book. An area-wide contest collected drawings from local youth, which were used to illustrate the book.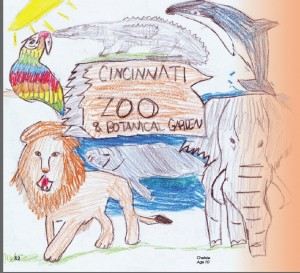 The story behind
Cincinnati – Our City, Our Story
 gets even better. Thanks to a matching grant from the Smale Family Foundation, along with donations from many other companies, individuals and charitable organizations, all of the printing and distribution costs were covered allowing the group to
donate 100% of the wholesale proceeds to Every Child Succeeds
, a local nonprofit whose mission is to offer high risk families in Greater Cincinnati and their families support to ensure an optimal start for their children. Every Child Succeeds will use the proceeds it receives from the sale of the books to purchase books for its nearly 2,000 enrolled families and support literacy programs for children 0-3 years of age.
So by purchasing Cincinnati – Our City, Our Story ($16.99), you're helping kids in need launch a lifetime of reading and you're teaching your own kids to appreciate and enjoy our fine city. That's my kind of multitasking!
Book Giveaway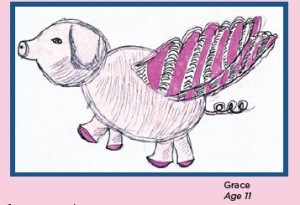 We have one copy of Cincinnati – Our City, Our Story to give away to a lucky FFC reader. To enter for your chance to win, simply leave a comment on this post, sharing the title of one of your kids' favorite books (Cincinnati-related or otherwise).
Winner will be drawn at random. Giveaway open to tristate residents ages 18 and up only. Giveaway will close Wednesday, Nov. 7, at 9 p.m. Winner will have 24 hours to respond.
Giveaway is now closed. Confirmed winner is Anne K. — congrats!