Last year when we moved our children to a new school, one of the things that I found most curious, was that the school offered yoga. At first I wasn't sure what to think, but I quickly became a fan.  It had a wonderful impact on them – helping them become more focused, more confident. Best of all, they really enjoyed it and would even do it at home with me while I exercised. They even taught me some "moves."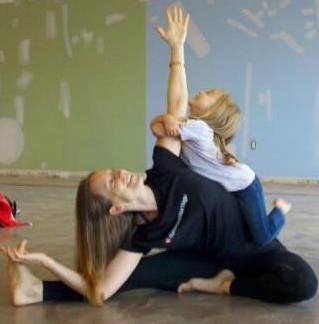 According to the Mayo Clinic, "…anecdotal reports suggest that yoga can calm children, reduce obesity, enhance concentration and help children manage certain health conditions, such as headaches and irritable bowel syndrome. Studies suggest that yoga may also benefit children who have various mental and physical disabilities."

So why are we talking about yoga today? Because a new yoga studio, Kenwood Hot Yoga, has opened and they are offering kids yoga classes on Saturdays, starting this weekend. The classes, which are described below, are just $10 so it's an affordable way to see if your child would enjoy incorporating yoga into their routines.
Kids Yoga Class Time | Saturdays  2:30-3:30pm
Starting October 13th and running weekly.
Bring your little yogis (ages five and up) to join in on the fun! In each class children are encouraged to use their imaginations and be KIDS. They will learn poses that strengthen and stretch their bodies and breathing that helps to calm and soothe the mind. Yoga is a natural fit for children and develops body awareness, confidence and self-esteem in a supportive, nurturing environment. Kids Yoga Classses are $10 each! Or feel free to buy a package.
 Check it out and let us know what you think. Perhaps your child has already tried yoga? If so, what did you think?