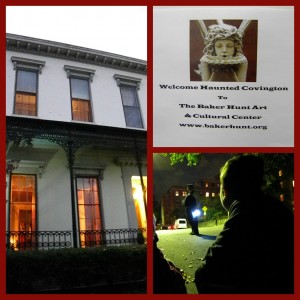 Did you hear the story about the ghosts of Covington?  You know…that building on the corner with the wandering spirits from a time long gone by?  The house that bumps and creaks with the sounds of the ghosts of runaway slaves searching for the Underground Railroad.   The Grey Lady who walks her staircase, eternally checking on her party guests.
If your family is like mine they love a good ghost story, especially this time of year!   Imagine how excited we were to hear about the Haunted Covington walking tour!  Starting and ending at The Baker Hunt Art and Cultural Center, Haunted Covington is a 2 hour walking tour that takes you through the Covington Riverside Historic District and past some of the most beautiful, and haunted, architecture in the area.  5 blocks long, the tour is led by  a very funny and incredibly entertaining trio of gentlemen who take turns regaling the group with tales of the past, the people who lived in the area, and the ghosts that they left behind.
The tour is not only highly entertaining and humorous but also very informative and educational.  I had no idea so much drama had ever occurred in our own backyards!   The tour guides do a fantastic job of really bringing the stories to life, adding details about the residents of Covington, the time period they lived in, and what events may have been happening in the area and in the world at the time.   The stories can be a bit grisly at times but not too terribly graphic.  I took my family of four (including my 9 and 6 year old sons) and FFC's Michelle H.  had her 9 and 5 year old sons with her for the tour as well.  The boys were enthralled by the stories, asked questions and commented, and even made up a few stories of their own during the walk.  I did worry that the 6 year old would cry "my legs are tired!" halfway through but he proved me wrong!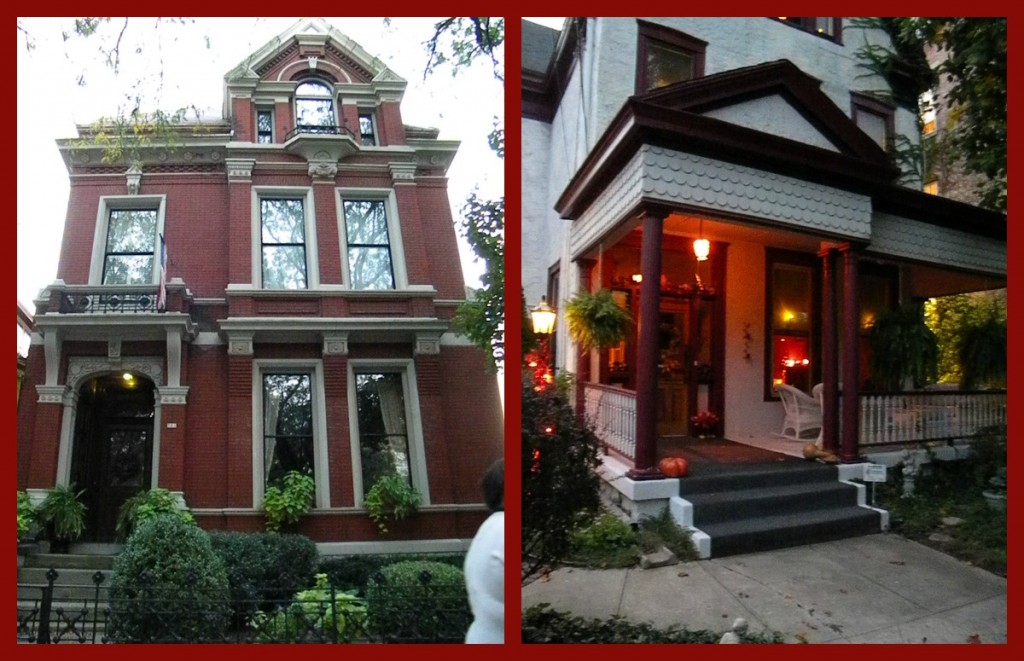 Just a couple of the gorgeous homes you'll get to walk past on your tour.The tour culminates with a walk through two mansions on the Baker-Hunt property.  Margaretta Baker-Hunt endowed the Baker-Hunt Foundation to provide the citizens of Covington with classes in art, religion, and lucky for us….psychic research!  Many seances have taken place in the mansions over the years.  In the last room you visit for the night there is said to be the ghost of a little boy who died on or near the property.  He's a mischievous sort and is known to roll a ball down the staircase and much more.   Are you brave enough to make contact with him on your visit?
You simply don't want to miss out on this tour!  The tour runs now through the end of October and is guided by American Legacy Tours.  Tours run on Friday and Saturday nights at 7 pm and 9:30 pm., cost is $20 per person.   For questions please contact American Legacy tours at [email protected] and make sure to let them know you are interested in the Haunted Covington Tour.  (and check out all of the other great city tours they offer!)