CRAVE Restaurant at The Banks
Winter of 2011 I spent 17 days in Minneapolis for training.  Did you connect Winter in Minneapolis.  Yes, it was cold.  One morning it, literally, took my breath away to go from the hotel lobby to the bus (5 steps) at  minus 20 degrees F.  At any rate, when not in training we had some time to visit the Mall of America and of course eat.  CRAVE was the one restaurant that we seemed to return to over and over.  So when they arrived on the Banks in Cincinnati, I was reminded of good food and memories.  When I was invited to experience CRAVE, along with my family, I was downright giddy.  I couldn't wait to share it with them.
Last Thursday, my family and I arrived around 6:30pm to celebrate (we can always find a reason to celebrate) my daughter's school accomplishment and my one year with Retrofit as a Behavior Coach for weight-loss.  The first thing I noticed was they have outdoor dining, however, we chose the dining room.  Immediately our server Troy, who was amazing,  brought us a bowl of fruit for each of the girls.  Love that.  The kids menu (complete with crayons) had typical kid's menu choices and a Kid's Sushi menu.  Love that even more.  One of our daughter's likes sushi, the other is a bit resistant but when we read kid sushi cone, we had her attention.  She loved it.
My husband, Greg,  and I shared an Aloha roll. My husband really liked the cilantro paired with mango and is still talking about that roll.  I liked it a lot.  The ahi tuna and poke sauce (something I fell in love with in Hawaii) was delightful.  I thinks it's rare to find a restaurant that has such a broad menu have really good sushi too, so that is a treat CRAVE offers.  The girls split a pizza and absolutely loved it.  Greg and I split the Glazed Grilled Salmon (again with mango) and it was delicious.  The crab crusted filet was also quite tempting and we wanted to leave feeling satisfied but not over full.  Mission accomplished.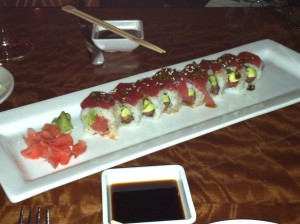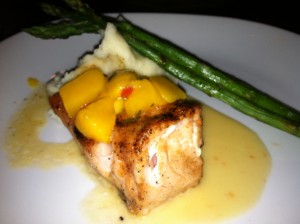 Aside from the broad menu selection at CRAVE, a few of the other things I noticed and liked about the menu are gluten free choices, a CRAVE cares lunch, dinner, wine and desert recommendation where a portion of the proceeds go to a designated organization building into the community (this month is  Reds Community Fund), a $3-5 Happy Hour Menu complete with food and drinks and finally smaller desert options.  CRAVE Cincinnati also has some nice private dining options including two chef's tables (the one we saw in the dining area sat 8-12 at an oval shaped table and had a privacy curtain) and two nice private dining rooms that can be expanded to one larger dining area.
When I asked the girls what their favorite part of our nice dinner out was, my oldest replied "the pizza" and my youngest replied "being together as a family" so I'll take that as a Win for all of us.
We are are grateful for the opportunity to dine at CRAVE Cincinnati and share our experience with you, to top it all off CRAVE generously donated a $25 gift certificate so you can enjoy it too.
Disclaimer: I received a complimentary meal for my family and they generously provided the $25 gift certificate, however the opinions I included were all mine.
When not blogging for Family Friendly Cincinnati you can find Phyllis blogging on Healthy Happenings at Cincy Health Coach