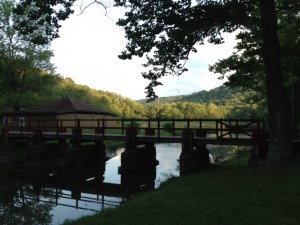 Pike Lake is loved. Which means I just have to stop and use an overused word and say that this is awesome. Not many OH State Parks are loved anymore. It's sad, but true. There's just not any money left for upkeep, or even trash cans. That's what makes Pike Lake, which was already a little known gem, the jewel in the crown of State Parks in South West Ohio.
My husband and I discovered Pike Lake probably about 15 years ago. I fell in love and have enjoyed getting to now share this beautiful place with my children. It's a small State Park about 88 miles from where I live in Blue Ash. The drive to Pike Lake is a lovely one — wondering through country highways and seeing country sites. There's a couple of ways to get to Pike Lake – we choose the route which takes us through Hillsboro where we like to stop and take a little time to just sink back into time and soak in a different way of life. The last time we went to Pike Lake a few weeks ago in August, we hit Hillsboro during a market Saturday which permitted us to visit with local farmers and a few Amish girls who'd brought their baked goods and vegetables in to town in their horse and buggy.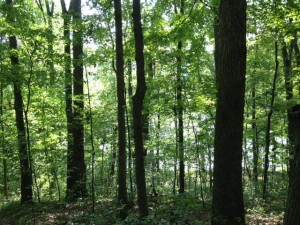 Pike Lake is just that, a lake. As lakes go, this one is really just a big pond. The only boats permitted on the lake are paddle boats or row boats — either or which can be rented by the half hour (which is just long enough for our family). There's a public beach with a very nice sand area. This is one of the unique feature about Pike Lake – the changing rooms/rest areas are maintained as is the beach. Every day the park ranger rakes the sand which keeps the geese away which means the sand is cleaner than at other parks. Swimming at Pike Lake is really nice as it's very calm and peaceful.
The park is also unique as far as State Parks because it has a cute little shop which sells some essentials and some non-essentials (like ice cream – well, this may be an essential, come to think of it). Once you arrive, whether for the day or weekend, this is where want to stop first to find out what's going on.  The day we were there, there was a hayride with the naturalist and a movie played in an outside amphitheater at dark. The Park also has a small nature center with some neat local history and specimens on display. If you plan on staying the night at the Park, your kids can complete a scavenger hunt to earn a State Park badge.
Most of the time when we head to Pike Lake, we make it a day trip. You can though, rent cabins or a lodge. There's 12 cabins and one lodge which can be rented year round. These are nothing fancy, but are comfortable. I stayed in one many years ago during a girls weekend away and only have fond memories of both the cabin and the weekend.
In addition to swimming and the nature center, Pike Lake has some great hiking trails, lots of picnic areas, an award winning disc golf course and fishing. The Park is situated in the Pike State Forest which offers bridle trails and even more hiking. There's two websites for Pike Lake – one here and one here.
We always enjoy our time at Pike Lake. It's a time to just kick back, enjoy each other and the beautiful world around us. Have you been? If you have, what are your thoughts and memories of your visit?