School is back in session for many of us, and the extracurricular activities are eating up our evening time.  I'm not the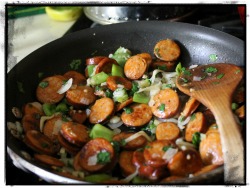 only one feeling frazzled in the evenings am I?!?  So little time and so much to fit into those few precious hours between school & bedtime.  Since school has started I've been working very hard to be organized about dinner time.  I sit down each weekend and plan out our menu for the week taking into account our schedule for the week.  More and more I'm having to make "easy" dinners, something that does not require much of my time to get on the table in the evening.  Don't get me wrong, I love making grand dinners that have 45 ingredients and require an hour or two of my time to make.  I really do.  I love cooking.  I just don't have time for it.  So I've been using up all my "easy" recipes since school started.  I needed to find some new recipes to try, so I asked all of my cohorts at Family Friendly Cincinnati for their "Easy" dinner recipes, and thought I'd share all of our favorites with our readers.  Because like I said, I can't be the only one frazzled in the evenings, right?!?!  So here's a list of links to our favorite EASY dinners.  I hope you find some dinner-time inspiration from this post, and feel free to add your own favorite recipe links in the comments below!!!  The more the merrier!
Karen's Favorite Easy Dinners ::
Patrick, my husband, is obsessed with Jamie Oliver – And hey! if it means the man will make me a birthday cake from scratch, then I'm ok with it.
 Anyhoo – here's two recipes he's asked me to make in the last few weeks and both are absolutely delicious!! (The only challenge is everything is measured in metrics, but I'm cool with that, and if in England a tin of tomatoes weighs 250 grams and ours is 235 grams, I say close enough!!)
Both are super kid friendly and EASY to prepare!!
Shannan's Favorite Easy Dinner ::
Michelle's Favorite Easy Dinner ::
Kandi's Favorite Easy Dinner ::
Kristin's Favorite Easy Dinner ::
Katie's Favorite Easy Dinners ::
Amy's Favorite Easy Dinners ::
Please leave us a comment below with your favorite easy recipe ideas!