School is back in session for many of us, and the extracurricular activities are eating up our evening time.  I'm not the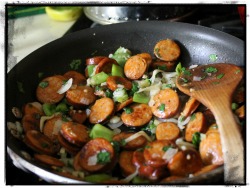 only one feeling frazzled in the evenings am I?!?  So little time and so much to fit into those few precious hours between school & bedtime.  Since school has started I've been working very hard to be organized about dinner time.  I sit down each weekend and plan out our menu for the week taking into account our schedule for the week.  More and more I'm having to make "easy" dinners, something that does not require much of my time to get on the table in the evening.  Don't get me wrong, I love making grand dinners that have 45 ingredients and require an hour or two of my time to make.  I really do.  I love cooking.  I just don't have time for it.  So I've been using up all my "easy" recipes since school started.  I needed to find some new recipes to try, so I asked all of my cohorts at Family Friendly Cincinnati for their "Easy" dinner recipes, and thought I'd share all of our favorites with our readers.  Because like I said, I can't be the only one frazzled in the evenings, right?!?!  So here's a list of links to our favorite EASY dinners.  I hope you find some dinner-time inspiration from this post, and feel free to add your own favorite recipe links in the comments below!!!  The more the merrier!
Karen's Favorite Easy Dinners ::
Patrick, my husband, is obsessed with Jamie Oliver – And hey! if it means the man will make me a birthday cake from scratch, then I'm ok with it.
 Anyhoo – here's two recipes he's asked me to make in the last few weeks and both are absolutely delicious!! (The only challenge is everything is measured in metrics, but I'm cool with that, and if in England a tin of tomatoes weighs 250 grams and ours is 235 grams, I say close enough!!)
Both are super kid friendly and EASY to prepare!!
Shannan's Favorite Easy Dinner ::
Shannan's family loves
Lentil Soup
, and it's so easy to make! This lentil soup recipe is very hearty and filling and with her family of 5, they had enough left over to have again later in the week or to take to work for lunch.
Michelle's Favorite Easy Dinner ::
My go to recipe?  It's new.  I just discovered it this weekend, but after finding out how much everyone loved it, I have a feeling I will be making it a lot this Fall.  F
lavorful Southwestern Chili from Taste of Home
.  The salsa I used was flavored with peach and mango and the tomatoes had chipotle in them.  I also used ground turkey.  This was so easy that it's shameful it's so delicious.  And, it's fairly low fat and high in protein.  Enjoy!
Kandi's Favorite Easy Dinner ::
We eat this on busy nights because it really is easy. My friend Nikki and her Mom's group in Bloomington write this blog. There are many recipes I've tried and loved, but this one is the one most used in my house:
Crockpot Taco Chicken
.
Kristin's Favorite Easy Dinner ::
Kristin's Easy Peasy Pork Chops:
Pork chops dipped in fried onion strings:
– Pre-heat oven to 350 degrees
– Get some pork chops – we like bone in ones that are slightly thicker
for this recipe
– Beat an egg and a little milk
– Get a can of fried onion straws – take out your aggression for the day
and *crush* those up
– Dip the pork chop in the egg wash
– Then cover the pork chop with the fried onion crushed mixture
– Bake uncovered for 30-40 minutes
We usually serve this with a baked potato and a vegetable.
Katie's Favorite Easy Dinners ::
I'm loving my slow cooker, and also a big fan of soups on these chilly autumn days.  Here's a few of my family's favorite meals that are quite easy to put together, some take a little more time than others, but they are all simple to put together: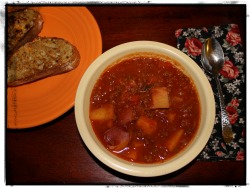 Amy's Favorite Easy Dinners ::
Please leave us a comment below with your favorite easy recipe ideas!