Live It Up Downtown is this Saturday, Sept. 15.  You can't help but smile when you see the words, "Live It Up".  Even though my family lives in a northern suburb of Cincinnati (Go Mason/Deerfield Twp.), we love visiting downtown Cincinnati.  There is so much to see, do and experience.  This Saturday, Downtown Cincinnati, Inc. and the Downtown Residents Council are pulling out one big welcome mat and inviting you to see why they love living downtown.  There will be something for everyone to enjoy.  Kids can see two free puppet shows with the Wump Mucket Puppets (3pm & 5pm), or give a high-five to one of our beloved mascots from the Cincinnati Reds (Gapper), Cincinnati Bengals (Who Dey), and Cincinnati Cyclones (Twister).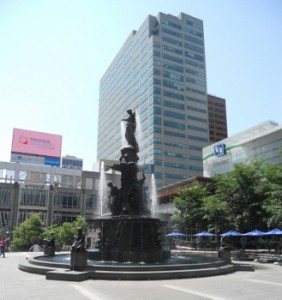 Visitors will enjoy plenty of live music on the square as well as a vast array of local art and cultural organizations and small businesses.  If you are new to downtown and wonder what it might be like to live there, then make sure you visit one of  the open houses to see if there is a rental or sale property that appeals to you (3-6pm). Kudos to  The Horseshoe Casino ,  4EG Entertainment Group ,  Taste of Belgium (yum) , 3CDC and Fountain Square for  supporting the festivities and welcoming us all to the Queen City!
Check out this list of who will be at Live It Up Downtown, and you'll want to make sure you visit. The fun starts at 3pm and goes until 11pm.
Listing provided by Downtown Cincinnati Inc.: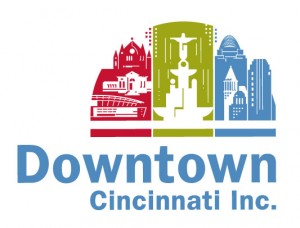 4EG/ Keystone Bar & Grill
4th & Plum Lofts
5th Street Gallery
Architreks / Cincinnati Walks
Avril Bleh & Sons
Bridging Broadway
Burnell's
Christ Church Cathedral
Cincinnati Bengals
Cincinnati Cyclones
Cincinnati Museum Center
Cincinnati Parks
Cincinnati Police Department
Cincinnati Reds
Cincinnati Symphony Orchestra
Cincinnati Union Bethel
Citizens on Patrol / VIP
City Cellars
Coldwell Banker
Comey &Shepherd
Contemporary Arts Center
Covenant First Presbyterian
CRAVE restaurant
Downtown Cincinnati Inc.
Downtown Cincinnati Inc. Ambassadors
Downtown Residents Council
Fastsigns
FB's
Fido Field
Findlay Market
Fountain Square Cosmetic Dental Group
Dr. Walter E. Gay, DDS
Green Bean Delivery
Gym @ Carew Tower
Horseshoe Casino
Dr. William Hoskins, DDS
Hoxworth Blood Drive
Hudepohl 14K Brewery Run
JBM Elite Personal Training
Jim Moll Properties
Jimmy G's
Dr. Lana Long, MD, City Dermatology & Laser
Local's Sports Bar & Grill
Mercantile Library
Moerlein Lager House
National Underground Railroad Freedom Center
One Lytle Place
Over-the-Rhine Community Council
Papa John's
Pendleton Community Council
Pet Wants
Plum Court Wine Room
Plum Street Pet Clinic
Public Library of Hamilton County
The Renaissance
Reserve at 4th and Race
Robinson Sotheby's
Sean Donovan
Sector Groups
Sibcy Cline
Society for the Prevention of Cruelty of Animals
Sophisticated Threads
St. Peter in Chains
St. Xavier Church
Sycamore Place/East 8 Lofts
Taft Museum of Art
Taste of Belgium
The Banks
Towne Properties
Union Baptist Church
Visitor's Center
Walgreens
YWCA
Disclosure: My Dad is a member of the Downtown Residents Council and he asked me to share the love for downtown.  I was more than happy to oblige.  So, if you visit the DRC booth, make sure you stop by and say hi to "Triple M" (a.k.a. Mike the Maintenance Man). We'll also be there enjoying the day.
When not blogging for Family Friendly Cincinnati, you can find Kristin writing on her personal blog, MasonMetu (from me to you).