Baby Baby Boom Boom is almost here!   If you are a  Mom, Mom to be or supporter of Mom then this is the baby expo for you.  There will be over 50 vendors on site ready to help make "Mom" life a bit easier.  Baby will be happy too. There will be a fashion show for babies, and fun activities including face painting, library story time and a bounce house.  There will also be plenty to keep Mom entertained including prizes, "Mommy Class Time", welcome packages for Mom, and lots of Mommy pampering.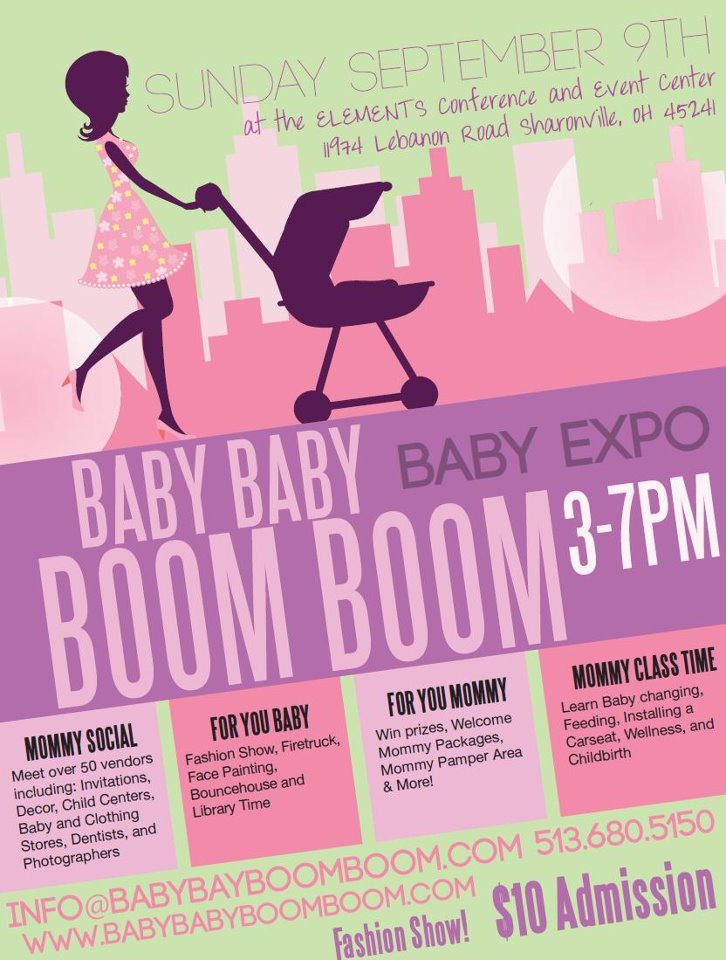 If you do want to register for a "Mommy Class", seating is limited so the sooner you register the better. The event will be held on Sept. 9 from 3-7 p.m. at The Elements Conference & Event Centre in Sharonville. Here are some of the free seminars offered (from Baby Baby Boom Boom):
3:30  –  Micheal Lean with Baby Safe Homes. "Baby proofing seemed to be such a simple project, until it was time to baby proof our home". We can help.
4:00 – Ashley Brown-Combs RNC-NIC, CLC and owner of Blue Cocoon, the Breast Feeding Lifestyle! Ashley will talk about the A-Z on Breastfeeding, Womens Health Care Policy and how it affects purchase, rentals and lactation services.
4:30 –  Dr. Mark Mandell-Brown "Mommy Makeover" A Makeover to make a mom feel beautiful on the inside and outside.  You give everything to your children and you feel good about it, knowing that every sacrifice is more than worthwhile to keep your family healthy and happy. But sometimes, in all that you do, you get a little lost. What if you could take great care of yourself and raise your children too? The Mommy Makeover is the what we do & you have exciting surgical options to reverse the unwanted effects of childbearing and age.
5:00  – Nourishing Foods for the Family – Jen Molitor, NTP, M.ED.  – Nutritional Inspirations, LLC.
5:30  – Car Seat Installation: Suzanne Casteel– Firefighter with Sharopnville Fire Department – A local firefighter will teach you the proper way to install your car seat.
6:00  –  Infant CPR: Suzanne Casteel– Firefighter with Sharonville Fire Department will talk about the free classes that the Sharonville fire station hosts the third Saturday of every month. They will teach us what is included in the class and what you as a parent will need to know.
6:30 Etiquette with Jan Polk, Painter of the Great American Flower Collection (GAFC), the "respect series" of fine art watercolor paintings. Jan Polk will introduce you to their
birthday/journal/etiquette tip reference book "A Year of Good Manners" by Margery Sinclair and Jan Polk.
Admission to Baby Baby Boom Boom is only $10 but if you visit CouponClipper.com you can print a coupon and admission will be only $5 (kids are free). Baby Baby Boom Boom has also given Family Friendly Cincinnati 2 sets of 2 tickets each for you and a friend to attend. Here are the details:
GIVEAWAY ALERT
We're giving away 2 tickets each to two lucky Family Friendly Cincinnati readers to attend Baby Baby Boom Boom.
WIN| WIN| WIN
Entering is easy, simply answer question number 1 below, additional questions are bonus entries. Leave a separate comment for each one you complete. A total of four entries are possible. Winner will be drawn at random. Giveaway is open to Tri-State residents ages 18 and up only. Giveaway will close on Tuesday, Sept. 4 at 8pm. Winner will have 24 hours to respond.
1) What is the best part of being a Mom or  if you are an expecting Mom, what are you looking forward to with your new bundle of joy?
2) Subscribe to FFC's eNewsletter (top right)
3) Check out the FFC Facebook page & BabyBabyBoomBoom Facebook Page
That's it. It's that easy. Good luck everyone!
.
Disclosure: Baby Baby Boom Boom provided FFC with the tickets to give to our readers to help spread the word about this event. I also plan on attending & participating in Baby Baby Boom Boom with a fun craft for the kids and hope to see you there as well.
When not blogging for Family Friendly Cincinnati, you can find Kristin writing on her personal blog, MasonMetu (from me to you).
Congratulations to Melissa & Jesy!