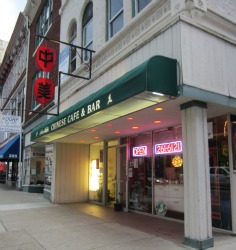 KungFood Chu's Amerasia
I have stumbled upon a not-so-new restaurant in Covington that has delicious Asian cuisine.  I say "not-so-new" because people have been talking up KungFood Chu's Amerasia for a while now, it's just taken me some time to get there and check it out.  Honestly, I was skeptical, because before it was KungFood Chu's Amerasia, it was just Amerasia, and when I worked in Covington I ordered lunch from there on a regular basis.  Not because the food was amazing, but rather because it was consistently decent and rather cheap, and there were limited lunch options back then in Covington that did not involve a drive thru window.  I have to say, in the past five years since I've left my job to stay home things have really changed.  There are so many great options in Covington for lunch & dinner, and even breakfast!  One of those options is the re-vamped Amerasia, now known as KungFood Chu's Amerasia.  Wow, they put a new dress on this one!  Everything about this restaurant has changed since I used to frequent it years ago.  I'm not sure when this makeover took place, but it's been a few years.  Like I said…I was reluctant to check it out because I had the old Amerasia in mind.  I was bowled over when I walked into KungFood Chu's last week, and I left feeling full, happy and eager to return.  Here's a quick review, in photographs….
My brother and I went together with my daughter, but I can't wait to go back with Michael and the rest of the munchkins in tow.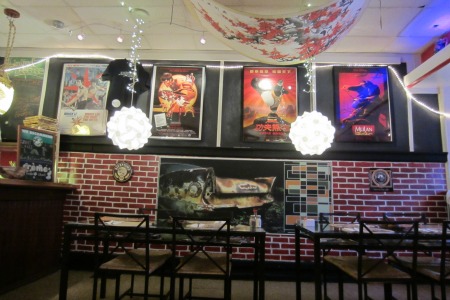 The restaurant is not very big, but they really make the most of their space.  They get crowded on Friday & Saturday nights, so if you go on the weekend you might want to expect a wait.  We went on a Thursday and there was plenty of availability.  Even though the tables weren't full there was a steady stream of customers picking up their take-out orders.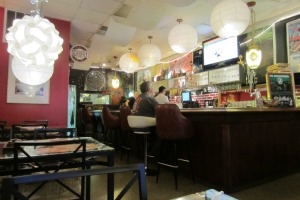 If beer is your thing, they offer over 100 different kinds of craft beers.  Plus other fun cocktails.  And if you aren't sure what kind of drink you are looking for ask your server or the bartender, they will steer you in the right direction.  Most of the time they have Kung-Fu movies playing on the TV above the bar.  The night we were there they were showing the Olympics and then a movie, which adds to the fun atmosphere of the place.  I think my boys are going to love watching Kung-Fu  movies while they dine when we go back.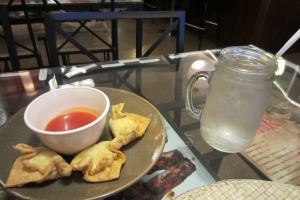 One of our appetizers…crab rangoon, my favorite.  One of my favorite things about this restaurant is that every single thing they serve is made from scratch by the fabulous Chef Chu, who has been cooking for over 60 years.  And you can tell when you dine here that the food is made from scratch, because everything tasted just wonderful.  While we are on the topic of people who work at KungFood Chu's I have to say, the entire staff was lovely.  They were more than just polite, they were friendly & knowledgeable and you could tell they really enjoyed working there.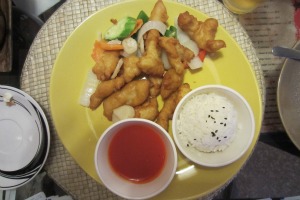 Ella and I shared the Sweet & Sour Chicken.  It's her favorite.  I was dying to try something new, but she loves her sweet and sour chicken.  It was very very good.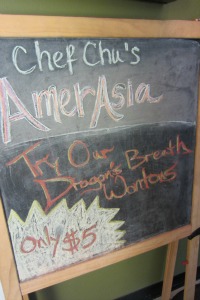 While we were eating my sister texted and told me to try the Dragon's Breath Wontons.  For the record, I think this sign should depict a fire-breathing dragon on it, because that's what I felt like after eating the Dragon's Breath Wontons!  Those little badboys had kick!  They were delicious (but be sure to have a cool drink waiting on hand).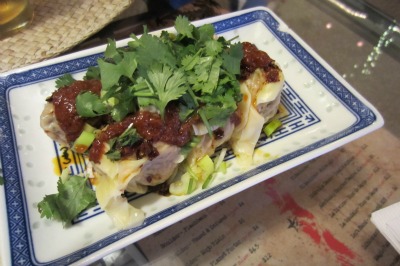 The Dragon's Breath Wontons…beautiful AND delicious.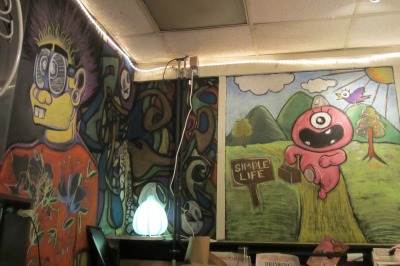 Ella & I loved the funky decor in the restaurant.  Even the bathroom was quite unique in it's design and decor.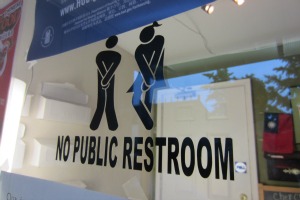 Speaking of the bathroom…if you find yourself wandering down Madison Avenue looking for a restroom, stop by KungFood Chu's Amerasia and have a bite to eat just so you can use the restroom.  You will not be sorry, the food is tasty, the staff is top-notch, the beer selection is vast, and the prices are quite reasonable.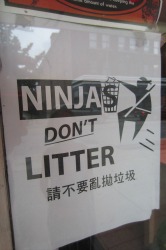 And just one more cool sign from our friends at KungFood Chu's…if you take a doggie bag home be sure not to drop it on the sidewalk!  I love all the quirky little tidbits at this place!
KungFood Chu's Amerasia is located at 521 Madison Avenue in Covington.  Check out their Facebook page for all the details on hours of operation & keep up with their goings on.