Sweet Frog Frozen Yogurt
It would seem that the universe was listening when I bemoaned the lack of frozen yogurt establishments in Northern Kentucky because I am happy to report that yet another spot has opened where you can treat yourself to a delicious and personalized frozen yogurt concoction!  Sweet Frog Premium Frozen Yogurt is now open in Crescent Springs and you know my family and I were among the first in line to try it out!
It was perfect timing really…I learned that Sweet Frog made it's debut on July 6th and we just happened to be in the area that Sunday afternoon at a party, so there was really nothing else to do but stop by and have a tasty dish of frozen yogurt.  Sweet Frog works just the way many other new frozen yogurt places do: choose a cup size, try to narrow down your flavor of choice, top that creamy, wonderful frozen yogurt with any number of delicious toppings, then weigh and pay for your treat.
My oldest son is pretty loyal to the vanilla/cookies and cream combination (cookie dough topping) and my youngest is a peanut butter and chocolate fan (which he tops with gummy bears and other fruity or sour candy items…no really, he does).  I discovered they had Dulce le Leche and I couldn't get past it so I filled my cup then topped it with little pieces of pound cake and bits of broken waffle cone (Yum!)  My husband is a layering kinda guy…bottom layer cheesecake, next layer birthday cake, next layer Maple Bacon Donut.  Wait, what?!  Yes, dear readers, Maple Bacon Donut.  He was a little on the fence at first about the flavor but has since said he would definitely eat it again.  I have heard others rave about the tastiness of it.  You really just need to go and try it for yourself!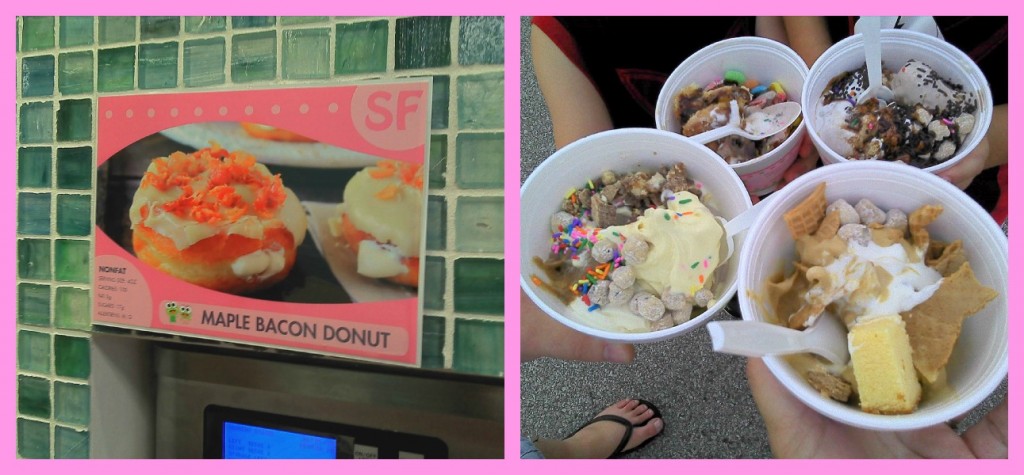 Something I haven't seen anywhere else, but that I really was happy to see, was the listing of nutritional information on the wall and next to each flavor.  For those of us watching those calories this was a fabulous find!  I knew going in that my cup of dulce le leche (I eyeballed the amount at being about a half a cup) was only 140 calories!!  I was also informed that there is a binder, available upon request, with all nutritional information for those interested…I love this!  Most of their flavors are low fat, low sugar or no sugar added and they also have sorbet for dairy free options.  They take requests for flavors as well!
It was a lovely visit…friendly staff, tasty frozen yogurt-what more could you ask for?  If you are in Northern Kentucky I highly suggest stopping by and giving Sweet Frog a try!  Shannan B of FFC already stopped by with her family and really enjoyed her visit as well!
Sweet Frog Frozen Yogurt is located at 2416 Baxter Avenue in Crescent Springs (in the shopping area behind Bonefish Grill right off of Buttermilk Pike…if you turn into the Bonefish parking lot and go straight you'll find it on your left hand side!)  They are open from Noon to 10 p.m. every day.  You can find more info on their Facebook page or The Sweet Frog website.
When she's not blogging for Family Friendly Cincinnati you can find Amy Q writing at her personal blog In a Galaxy.