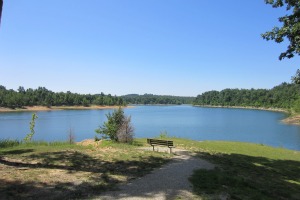 Sometimes a big summer vacation is just not in the cards for my family of six.  Trips to the beach are lots of fun, but can be quite expensive.  We spend most of our summers having adventures around Cincy & Northern Kentucky (see our summer bucket list on my blog), but each year I plan one vacation for our family to a Kentucky State Park.  Staying at a State Park is affordable and always fun.  We've been to several parks now over the past few years, including Cumberland Falls, Pennyrile State Park, Carter Caves and more.  We love exploring the beauty of Kentucky's parks, and they are never too far away from home, so Mom & Dad do not have to endure a 10-15 hour drive with the children.  This year we went to Rough River Dam State Resort Park.  It was about a three hour drive from our home in Northern Kentucky.  This was a really cool state park, the only fun we missed out on was swimming in the lake.  Due to the low water level their beach was closed, but that did not put a damper on our good time.  This was also the first state park that we've stayed at where there was an airfield.  The kids thought it was pretty cool to watch the small planes come and go.  We had a great, relaxing getaway this summer, and I'm going to share some details about our trip to Rough River Dam with you readers so you can consider a trip to this fun state park.
Planning a trip to Rough River Dam State Park :: 
My first suggestion is to plan early.  When I plan visits to our state parks I usually try to reserve our cottage in January.  The closer you wait to reserve a cottage or lodge room the more difficult it tends to be (in my opinion).  I always like to plan our vacation in the middle of the week, because there are less people staying at the parks during the week than on weekends, and we like coming home on a Saturday so we have an extra day to unwind before the husband has to go back to work.  Even on the weekends though it never seems too crowded at the parks we have stayed at.
Accommodations :: 
Rough River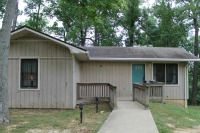 Dam has a campground, a Lodge and cottages available at their park.  The Lodge looked very nice to me, but we always rent a cottage so we have room to spread out and can cook our own meals.  The cottage we stayed in this year was surrounded by woods, and had a path nearby that traced the edge of Rough River Lake and led to the Lodge/Pool.  Even though there were several cottages in our area, it was still a relatively quiet & peaceful place.  The cottages have fully equipped kitchens, which I love, and ours had a back deck, that was a nice addition.  We spent a lot of time out there reading and talking after the kids went to bed.  The cottages are all well taken care of, and housekeeping is quick to meet any needs you might have.
Dining ::
When we travel to state parks I always pack our own food because we are staying in a cottage with a kitchen, but we do eat out occasionally.  We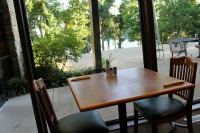 always like to have dinner one evening at the Lodge Restaurant because the food at the lodge is always good and priced affordably.  Rough River's restaurant, Grayson's Landing was no exception to these rules.  Our favorite dish to get is the fried catfish.  Either my husband or myself orders it each time we go to a state park and we end up sharing it.  And Grayson's Landing had a dinner buffet too that looked tempting, and many people were dining at the buffet.  I just couldn't pull myself away from the catfish.  They have cheap children's meals, and even have an ice cream sundae bar for dessert!  The best thing about Grayson's Landing was the view though.  You look out over Rough River Lake while you eat dinner, it's just gorgeous (see the picture to the right).
Things to Do ::
Boating ~ Rough River Dam is a popular place for boaters, even during the week the boat was hopping with houseboats, pontoon boats, jet ski's, and all kinds of boats. The have a marina and a dock at the park.
Lady of the Lake Tours ~ We took a 1.5 hour pontoon boat tour of Rough River Lake ($8 per adult, $3 per child) and it was great, we learned a lot about the history of the lake and surrounding area, saw a few brave souls diving in the water from cliffs, went past a few small islands where boaters had stopped to hang out and relax, and waved to the many boaters we passed.  Our tour guide was a wonderful gentleman who seemed to know everything about this area, and had great stories to share with us.
Fishing ~ One of Michael's favorite things to do on vacation.  I thought it was nice that the lodge even has a loaner program if you forget your fishing equipment!
Hiking ~ There are two trails at the park, one is 1 mile and walks along the lake, and the other is .7 mile and is a nature walk that takes you past an old log cabin
The Game Room ~  Foosball, Arcade Games, Ping Pong & Pool made this room a favorite of my children's during our trip.  It was a great place to hang out after dinner at Grayson's Landing Restaurant.
More Fun Activities to do at Rough River Dam ~ Birding, Golf, Miniature Golf, Basketball, Swimming in the Pool, Picnics, Playing at the Playgrounds, Tennis and Volleyball.
Green Mill & the Falls of Rough :: 
Just minutes away from the Rough River Dam state park is the beautiful Green family home and Green Mill & Falls of Rough, which is all that remains of a once bustling mill and family owned town that began in the 1800's.  We enjoyed walking over the old steel bridge and looking at the crumbling mill and beautiful falls.  It appears that a development of some sort was started here, but I'm not sure if it has fallen through or if the resort will be built at some point.  There is a Falls of Rough golf course located here as well.

Rough River Dam State Park :
450 Lodge Rd.
Falls Of Rough, KY 40119
Phone: (270) 257-2311
Toll Free: (800) 325-1713
Park Manager: Michael Ricks
Does your family have a favorite place for a quick getaway that is not too far from home?