The MidUSA Ohio Challenge is taking place this weekend in Middletown.  They are celebrating the 10th anniversary of this event so if you like hot air balloons this is a fun time!  There are going to be more than 40 balloons, skydiving by Team Fastrax and entertainment for everyone.
My family loves this event.  The kids love to see the balloons flying early in the morning.  I love the balloon glows that take place each evening.  There really is something for everyone!  Games, vendors, food, balloon rides, tethered balloon rides, a car show, local bands and the list goes on and on.
The event itself is taking place at Smith Park in the heart of Middletown.  The MidUSA Ohio Challenge is taking place Friday, July 13 through Sunday morning, July 15.
The cost is $10 per carload with a free shuttle.  If you live locally (or know someone who does) you can just stroll into Smith Park.  Walk-ins are $4 per adult and children 12 and under are free.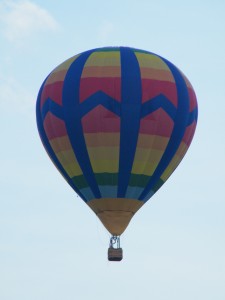 The tethered balloon rides are awesome!  I did one a few years ago and it was very memorable.  This year I think I'm going to let the kids try it out.  Cost for a tethered balloon ride is $10 for adults and $5 for kids 12 and under.  They don't go very high in the air, just in case your one of those parents who worry (like me!).
There really is too much to list for this, so click this link and check out the website.  You can also look at their Facebook page for details.
If you do head to Middletown for the MidUSA Ohio Challenge give me a shout if you see me!