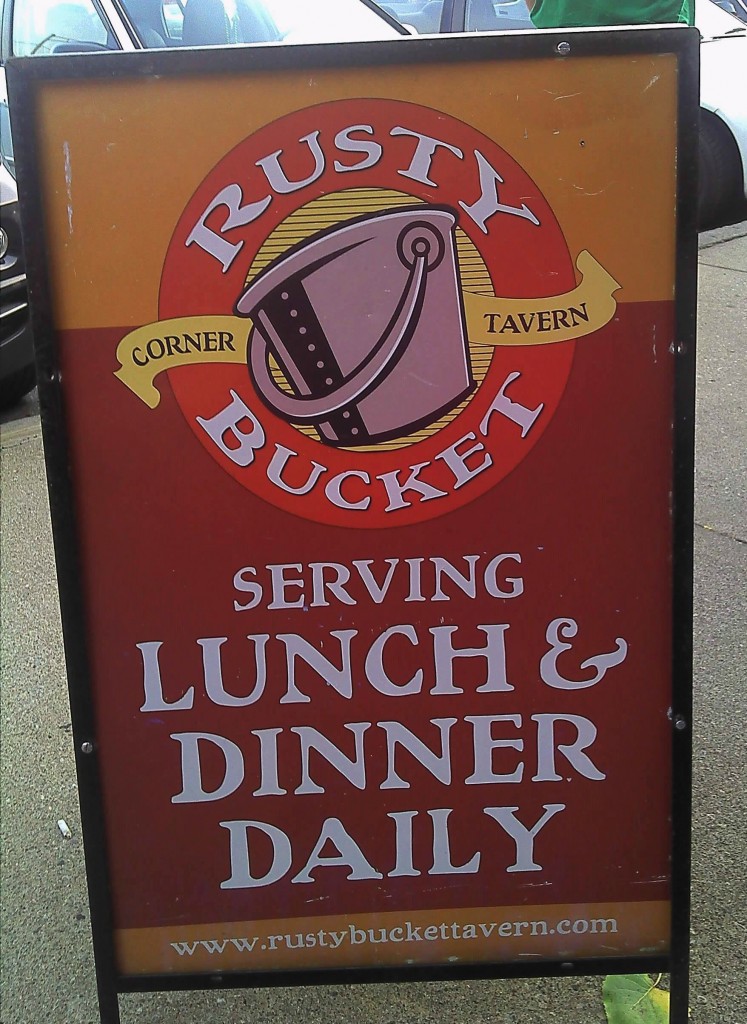 The Rusty Bucket
Friday night is Family Date Night in our house.  Sometimes it's pizza and a movie at home, sometimes it's kid's choice (you can imagine where we end up on those nights), and sometimes we go on a search for someplace new to try out.   Trying to find something new can sometimes get a little frustrating because we have a super picky eater in our house.  That's not a problem at  The Rusty Bucket in Rookwood!
I'll be honest, I had never heard of The Rusty Bucket before our visit and I didn't know what to expect.  I went straight to the website and looked over the menu and was pleasantly surprised when I discovered there was something for every member of our family on their menu.   We headed up to Rookwood on a stormy Friday to celebrate…our boys just made their stage debut in Camp Carnegie's production of Super Bummer Summer.  All acting debuts require a fabulous dinner out!
Since it was our first time we definitely wanted to try a little of everything.  My hubby tried out their Rogue draft rootbeer and pronounced it delicious.  We ordered the Double Stacked Quesadilla as our appetizer-blackened chicken with pepper jack and cheddar cheese, black bean and corn salsa and lots of fixings on the side.  Fantastic!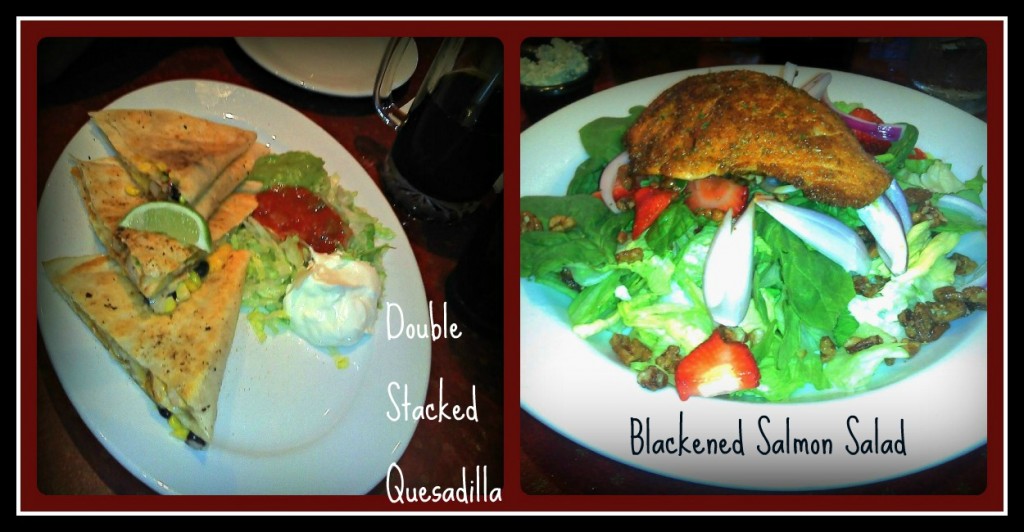 The boys stuck true to form and ordered grilled cheese and chicken fingers, my hubby ordered the Patty Melt and I ordered what turned out to be the most delicious salad I've ever eaten-The Blackened Salmon Salad.  A bed of greens tossed with sliced strawberries, candied pecans, red onion, bleu cheese crumbles, topped with perfectly cooked blackened salmon and served with their house made honey vinaigrette.  I simply cannot tell you how fantastic this salad was…you need to try it for yourself!  I have been trying to replicate the dressing ever since, it was that good.  Everyone really enjoyed their chosen entree, as evidenced by the completely clean plates at the end of the meal.
We had planned on heading out for frozen yogurt afterward for dessert but once the boys saw the Triple Chocolate Cake on the menu that plan got tossed out the window.  We ordered the chocolate cake along with the Sticky Bun Bread Pudding and Oh My was it delicious!  My oldest son basically devoured the Triple Chocolate Cake on his own while my husband and I battled our youngest for a bite or two of the bread pudding.  It was the perfect end to our meal!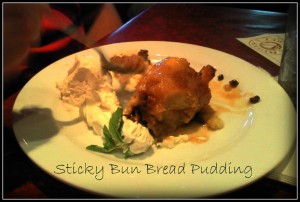 All in all it was a wonderful meal…delicious food, great atmosphere, and a superb staff.  Our server gave us what was easily the best service I have had in a restaurant in at least 10 years.  She was knowledgeable, friendly, and engaging…especially with our kids.  She made them each feel like she was there just to take care of them even though she clearly had a really busy station…definitely something I appreciate!
We were really impressed and left happy and already looking forward to going back.  You need to try this place for yourself!  The fine folks at The Rusty Bucket want to help you do that…they've given us FIVE $25 gift cards to share with our readers so that you can taste the goodness for yourself!  (psst…get the Blackened Salmon Salad…I promise you won't regret it!)
The Rusty Bucket is located at 2692 Madison Road in Cincinnati at Rookwood Commons.  More information and menus can be found on their website. 
Hours of Operation:
M – TH: 11 AM – 10 PM
F – S: 11 AM – 11 PM
SUN: 11:30 AM – 9 PM
* Call ahead and outdoor seating available

disclosure: We received gift cards and an invitation to try out The Rusty Bucket for ourselves, as well as gift cards to share with our readers, in return for sharing our experience while dining in the restaurant.  The review you see above is, however, 100% our unbiased opinion…as always.
When not blogging at Family Friendly Cincinnati you can find Amy writing at her own blog In A Galaxy.