Giveaway Closed. Congratulations to FFC reader, Midge B.  Congrats Midge!
It's summer, and that not only means hitting the pool to stay cool, but it means lots and lots of cookouts (at our house at least) on the back deck filled with burgers, corn on the cob, baked beans, and of course, potato chips!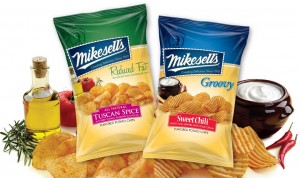 Just in time for cookout season, Mikesell's (which is located in Dayton… did you know that??) is launching two new varieties of it's tasty chips – Sweet Chili and Sour Cream on a Groovy Chip and Reduced Fat Tuscan Spice.
Sweet Chili and Sour Cream offers a kick of spice, a swirl of sweetness and a touch of sour cream all nestled in a Groovy-style potato chip. Tuscan Spice offers a unique flavor with a splash of olive oil, a burst of sun-dried tomato and a hint of rosemary and herbs with 30 percent less fat than regular chips.
To help them get the word out, the folks at Mikesell's are not only giving us a 6-pack of full-size 10oz bags of chips to giveaway (three of each variety), but also a 4-pack of passes to the Cincinnati Zoo because Mikesell's is the OFFICIAL snack food of the Zoo! Sweet, right?
Enter to Win | Enter to Win
Entering is easy, simply answer question number 1 below, additional questions are bonus entries. Leave a separate comment for each one you complete. A total of four entries are possible. Winner will be drawn at random. Giveaway open to Tri-State residents ages 18 and up only. Giveaway will close Tuesday, July 3rd at 3pm. Winners will have 24 hours to respond.
1) Tell us – Wavy chips or regular chips, which do you prefer?
2) Subscribe to FFC's eNewsletter
3) Check out the FFC Facebook page & Mikesell's Facebook page
About Mikesell's: Established in 1910, Mikesell's Snack Food Company is one of the oldest potato chip companies in the country. It manufactures and/or distributes potato chips, pretzels, puffcorn, popcorn, cheese curls and tortilla chips in Ohio, Kentucky, Indiana and Illinois. Find out more about the companiy's complete product line at www.mikesells.com
Disclosure: The folks at Mikesell's sent us a sample bag of each new variety of Mikesell's and is providing the prizes for the winner of this giveaway.