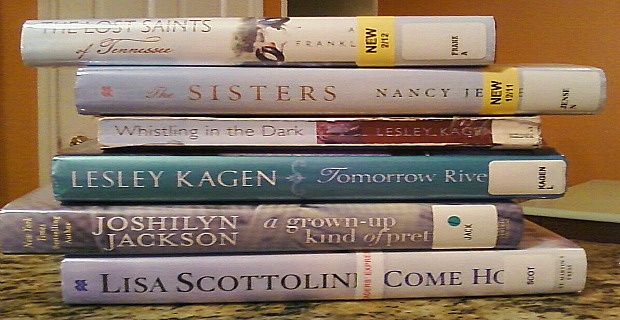 I love to read.  When I find an author I like, I end up reading everything they've written.  Then I go into withdrawal because I need another good book.  It's summer reading program time and vacation season, which means it's time for a good book!  How do you find a good read?  Our writers have put together a list of their favorite books to share with you and your family.  Whether you are trying to find a book for yourself, something to keep your kids quiet on a long car ride, or even some reading material for the special man in your life, we hope you can find something here!
Adult Women
Sarah's Key by Tatiana de Rosnay is one of Kristin's favorites
My Sister's Keeper by Jodi Picoult (or anything else by Jodi Picoult)
The Memory Keeper's Daughter by Kim Edwards
Like Water for Chocolate by Laura Esquivel
Fried Green Tomatoes at the Whistle Stop Cafe by Fannie Flagg
Water for Elephants by Sara Gruen
The Green Mile by Stephen King
Left Neglected by Lisa Genova
Saving Max by Antoinette van Heugten
The Girl With the Dragon Tattoo by Steig Larsson
The Expats: A Novel by Chris Pavone has been touted as a book loved by both men and women readers
The Sookie Stackhouse series by Charlaine Harris
Try something by Phyllis's favorite legal thriller series author, Michael Connelly.
Karen's favorite author, Gerald Durrell,  was a naturalist, zookeeper, conservationist, author and television presenter.  His works focus on his life as animal collector and enthusiast.
For fun Chick Lit, Michelle loves anything by Jennifer Weiner.  For something quirky try Model Home by Eric Puchner or anything by Joshilynn Jackson.  Michelle just finished her most recent novel, A Grown Up Kind of Pretty and loved the unpredictable twists and turns.
For a funny memoior, Shannan recommends any book by Jen Lancaster – Pretty in Plaid, Such a Pretty Fat, Bitter is the New Black and her new book that has just been released Jeneration X.  Jen writes hilarious and snarky memoirs.
If you love romance, but not too hot and steamy, Kandi recommends Debbie Macomber.  She has several series, Cedar Cove and Blossom Street, being her two most popular. These have several books where characters are interwoven within each story.
For something different and very interesting, Kandi suggests Quiet: The Power of Introverts in a World That Can't Stop Talking by Susan Cain.
If you enjoy historical fiction, Amy Q recommends anything by Margaret George but, especially The Memoirs of Cleopatra.  Amy also likes Nefertiti: A Novel by Michelle Moran
For readers who love fantasy, Amy Q suggests  The Dresden Files series by Jim Butcher.  Also, George R. R.  Martin is great fantasy, but make sure you are in it for the long haul–as there are five books so far–his  Song of Ice and Fire series is amazing (HBO's Game of Thrones is based on it).  Amy also enjoys anything by Neil Gaiman.
Adult Men
Kristin's husband is reading The Big Miss: My Years Coaching Tiger Woods by Hank Haney
Game of Thrones Series by George R.R. Martin and The Lord of the Rings Trilogy by J. R. R. Tolkien
Gulag Archipelago by Aleksandr Solzenitsyn – history
The Terror by Dan Simmons – historical fiction, horror
Travels in Siberia by Ian Frazier – travel
Across Atlantic Ice by Dennis Stanford and Bruce A. Bradley – Archaeology
The First American: The Suppressed Story of the People Who Discovered the New World by Christopher Hardaker and Charles Naeser – Archaeology
The Big Bad Wolf (Alex Cross) by James Patterson – fiction, thriller
The Expats: A Novel by Chris Pavone has been touted as a book loved by both men and women readers
Young Adult (late teen/early twenties)
Kristin loved the Twilight series by Stephanie Meyer
Hunger Games series
Amy Q  recommends the Percy Jackson series, the Red Pyramid series by Rick Riorda and anything Harry Potter
Tweens/Kids
Karen's daughter loves the Guardians of Ga'hoole Series and Inheritance Cycle.  These are super thick books sure to keep the kids busy!
Harry Potter books
Magic Tree House books by Mary Pope Osborne
Swindle books by Gordan Korman
School of Fear series
Little House on the Prairie collection
Ramona the Brave by Beverly Cleary (and any other Beverly Cleary book)
Frankie Pickle Series by Eric Wight
Michelle's 8 year old son loved The Strange Case of Origami Yoda and Darth Paper Strikes Back and is looking forward to the soon to be released (August 7th) The Secret of the Fortune Wookiee all by Tom Angleberger.  He also recommends any of the Hank Zipzer series by Henry Winkler.  Yes, The Fonz has written some fabulous children's books.
Katie's nine year old daughter loves The Grimm Legacy by Polly Shulman, Ella Enchanted by Gail Carson Levine, The Ordinary Princess by M.M. Kaye
Shannan's seven year old son loves Animal Planet books on dogs and the Bad Kitty series by Nick Bruel.  Her ten year old boy enjoys the Diary of a Wimpy Kid series by Jeff Kinney and the Big Nate series by Lincoln Peirce
If your kids like the Poptropica website, they may like Poptropica: The Official Guide by Tracey West.  Jeff Kinney, author of the Diary of a Wimpy Kid books, created this gaming website for kids.
Phyllis's daughters recommend The Rainbow Fairy books, Junie B. Jones and Nancy Clancy Super Sleuth
For the princess in your family, try Fancy Nancy or Pinkalicious
Kandi's boys love Flat Stanley and the LEGO Ninjago books
Don't forget about comic books!  Katie's five year old son loves them!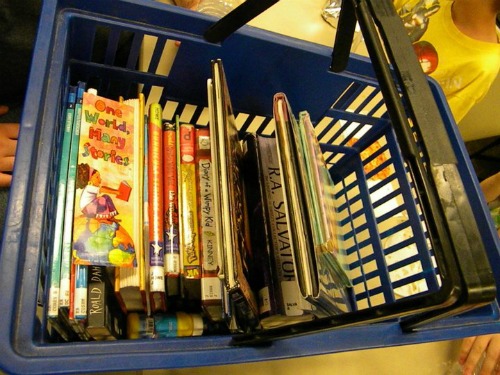 Early Readers
Splat the Cat by Rob Scotton
Roscoe Riley Rules by Katherine Applegate- Roscoe does unintentional silly things that make for fun, laughter filled reading that your kids will love.
Pete the Cat by Eric Litwin
Magic Schoolbus books
Black Lagoon books by Mike Thaler
Captain Underpants books by Dave Pilkey
Anything Dr. Seuss
How Does a Dinosaur Say Goodnight by Jane Yolen
No David, No by David Shannon
Blueberries for Sal by Robert McCloskey
Karma Wilson's Bear Books
Skippyjon Books by Judy Schachner
Michelle's three year old daughter loves any of the Lois Lenski books.  They are great for tiny hands and have beautiful, classic drawings.  Some of her favorites are The Little Family, Papa Small, On a Summer Day and The Little Auto.  Her 5 year old son also loves any book by James Marshall.  The antics his silly animal characters get into will keep kids thinking and wondering what's next.
Don't forget about Dick and Jane books.  They are great for beginning readers to sound out words and learn sight words!  Also, the Bob Books will have your child reading in no time.
Baby/Toddler
Brown Bear, Brown Bear by Eric Carle (and any of his other books)
I'm going on a Bear Hunt by Michael Rosen
Goodnight Moon Margaret Wise Brown
The Llama Llama series by Anna Dewdny
I Stink by by Kate McMullan
Goodnight Gorilla by Peggy Rathmann
Erin's kids are into animals big time right now and she recommends any of the following, sold by Barefoot Books:
I Dreamt I Was A Dinosaur  by Stella Blackstone
Elusive Moose by Joan Gannij
Hidden Hippo by Joan Gannij
How Big is a Pig by Clare Beato
Secret Seahorse by Stella Blackstone
Check out Blue Manatee Boxes for toddler/baby gifts.  You can design a special box of books for a child and have it sent to them.
If you are still looking for more book recommendations, here are a couple of tips:
Peruse the new books section at your public library.  Often these stacks are set up like a bookstore, with books on display.   Our Kenton County (Erlanger) library even has small displays featuring an employees favorite picks.
 Many libraries now offer a type of book research service.  You tell the librarian the type of books you like and what authors are your favorite and they recommend more books.
The Bookpage is an excellent publication that is free at your library.  It comes out monthly and has wonderful book reviews for all ages and interviews with authors.  I pick up a copy every month and mark it up with books I want to reserve.
If you have a favorite book or author, search them on Amazon to see what books people have bought in addition to that book.
Check out the jacket reviews on a book you like.  What authors have good things to say about that book and what have they written?  I've found many good books this way.  Also, read the "thank you" section in the back of the book.  Many authors are friends and mention others in their thank you section.  Research them!
Check out your favorite author on Facebook.  They often recommend their friends books or create their own list of book recommendations.
Create a free account at www.GoodReads.com to see what your friends are reading or check out lots of online book recommendations.  You can also connect this to your Facebook or Twitter account.
Go to a bookstore and walk the aisles.
Whatever you read, I hope it transports you to another world and refreshes you.  A good book can relax you, teach you something new and enlighten you.  Happy summer reading!
When not blogging for Family Friendly Cincinnati, you can find Michelle writing at her personal blog, I'm Living the Good Life.