Contest closed. Congrats to FFC reader Kellie.
Back in March we decided to head down to Louisville for a quick over night getaway. At just a little over an hour and a half drive, it was the perfect distance and place for us to head for a quick family trip. Now there is a TON to do in Louisville for families, but we only had 24 hours to spend, and that meant we were only able to squeeze in a few activities.
For our visit, we hit up the following places:  Havana Rumba, Louisville Slugger Museum & Factory, Wick's Pizza & the Louisville Science Center.
First up on our visit, a stop at Havana Rumba for lunch. If you like Cuban food, this is THE place to go. In a nutshell, if we could eat at Havana Rumba every week, we would. We actually stopped here before we even went to our hotel to check in. It's that good. (My husband has had it before, which is how we knew about it).
After lunch we headed to our hotel and got ready to head to the Louisville Science Center. We traveled there by trolley, a service that is FREE in the downtown business district (score one for Louisville). There was so much to do at the Louisville Science Center. You can tell they really work hard to make science fun. There were interactive games on nutrition, and trivia and activities centered on making good decisions, as well as a really neat guitar exhibition demonstrating the science behind the music. The "air" guitar was a big hit with the boys.
After an exhausting 3+ hours at the Louisville Science Center, we headed back to the hotel for a little swim in the pool before heading out to enjoy some pizza from one of the city's most noted pizza places – Wick's Pizza. Here the boys are trying to take on the BIG WICK. We also LOVED the Stuffed Breadwick appetizer (loved is actually an understatement. I have had dreams about it… no lie).
The next morning after breakfast (at our hotel) we headed to the Louisville Slugger Museum. The Museum is FILLED with lots of great interactive exhibits for kids. We could have spent hours here. The boys lived out their baseball dreams posing with bats used by some of the top players in the biz. They of course picked the bat of a Cincinnati Reds player. In addition to the museum they had a theatre where you could watch a movie on the history of Slugger and baseball as well as a batting cage and a play area for the younger ones.
I have to say, I found the whole experience to be very nostalgic, yet still fun and interesting. Probably our favorite part of the entire experience was the tour of the Louisville Slugger Factory.  They take you behind the scenes and walk you through as they are making the bats. And not just bats for you and me. Bats that have been special ordered by Major and Minor League players. While we were there they were working on bats for Joey Votto!  If the tour wasn't enough, at the end they give all of the tour attendees a miniature Slugger bat to take home!
– – – – – – – – – – – – – – – – – – – – – – – – –
While we only had 24-hours to spend in Louisville, I must say that we had a BLAST! What a great city for families.  If you get a chance to get away, I highly encourage you to consider a visit to this great city.  Oh, if you do go, and you need help figuring out what to do (in addition to the places we shared), check out the site Louisville Family Fun written by our friend, Stephanie.
Want to connect with these great Louisville businesses on Twitter & Facebook to learn more?
GIVEAWAY ALERT!
Now for the fun part. The folks at Crowne Plaza Louisville and at the Louisville Slugger Museum and Factory want to help bring you down for a visit.  Say what???  That's right. The Crowne Plaza Louisville has given us a WEEKEND STAY at their hotel, good for the weekend of June 29 – July 1 and the Louisville Slugger Museum & Factory has given us a family 4-pack of passes to the Museum!
About The Crowne Plaza Louisville:
We're located, just minutes from the Louisville International Airport (SDF) and major attractions like Churchill Downs and Kentucky Derby Museum, the Louisville Zoo, and the Kentucky Exposition Center. Take advantage of complimentary shuttle service, we provide all guests with free rides to the airport and any destinations located within a three-mile radius of the hotel. Experience the difference a little extra space can make in our stylish guest rooms or magnificent suites. Featuring amenities like free high-speed wired and wireless Internet, well-lit, generously-sized work desks, flat-screen televisions, and in-room movies, they're the perfect place to work or relax. Get a good night's sleep, get to Louisville's favorites hot spots, and get some assistance from your meetings director to make that on site business or social event a success – all at Crowne Plaza Louisville Airport Hotel.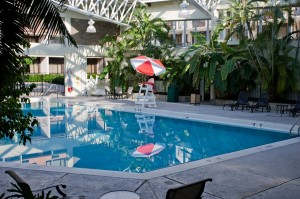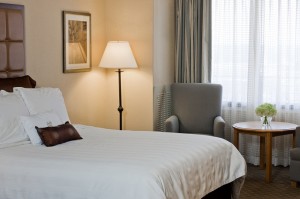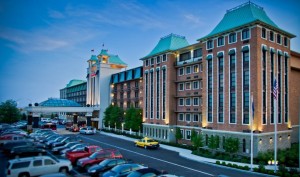 About The Louisville Slugger Museum:
It takes a special place to craft the Official Bat of Major League Baseball. Since 1884, Louisville Slugger has put prime lumber in the hands of the greatest players of the game. A visit to the museum shows you how the sport has changed a bit between then and now, but the "crack of the bat" remains one of the sporting world's most thrilling moments.
Win | Win | Win
Entering is easy.  Just leave a separate comment for each one you do (or already do). Only number 1 is required. The others are all bonus entries.
1) Tell us your favorite Louisville place or activity, or which of the activities/places mentioned above you think you'd like to check out.
2) Check out The Crowne Plaza on Facebook
3) Check out Louisville Slugger on Facebook
4) Subscribe to FFC's eNewsletter
5) Come join the fun over on the FFC Facebook page
5) On Twitter? Tweet about this giveaway (or RT our Tweet about it) including @FamFriendlyCin & @Crowneplazalou $ @sluggernation
That's it, it's that easy.
Giveaway will close Monday, June 11 at 3pm. Winner will have 24 hours to respond. If you enter, please make sure you are able to use the weekend stay the weekend of June 29 – July 1. It CANNOT be used any other dates. Winner will be contacted via email and also be posted to the FFC Facebook page.
Good luck!
Disclosure: Representatives with the Louisville Slugger Museum and the Louisville Science Center were kind enough to provide complimentary passes to visit their venues.  The Crowne Plaza has donated the weekend stay.  Shannan lived in Louisville as a young girl and has always loved this city.