We are thrilled to welcome Tricia Suit, with the Taft Museum of Art, to Family Friendly Cincinnati today. In June the Taft will officially kick off the celebration of the museum's 80th anniversary with ART FOR ALL, a fun all inclusive celebration of art, and she's sharing all the details with us.
————————————————————-
There's no shortage of things to do in Cincinnati in the summertime. This summer, be on the lookout for something new while you are out and about.
From June through September, framed reproductions of 80 works from the Taft Museum of Art's collection will be located around the Greater Cincinnati area in celebration of the museum's 80th anniversary. It's all part of the Art for All program.
You might stumble upon a masterpiece while hiking through a park, at the Zoo, or even in your own neighborhood. Look for Anna Sinton Taft at the Cincinnati Zoo and Botanical Garden, Edward and William Tomkinson at Devou Park, Cattle at a Watering Place at Parky's Farm in Winton Woods, Changing Pasture at the dog park at Otto Armleder Memorial Park, and other Art for All reproductions in fun, expected places all around town.
As part of the project, the Taft has also partnered with several organizations to present interactive programs about the works. For example, Hamilton County Parks will offer family-friendly activities throughout the summer, including chalk art and flower pounding workshops and talks on cloud watching. Plus, you can find out if your dog might be a real "Pawcasso!"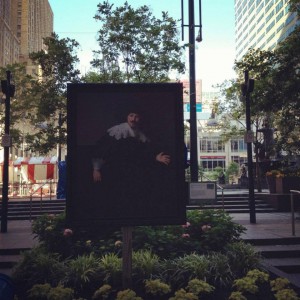 Through special community days, the Taft is also welcoming visitors to the museum for free. On the third Sunday of June, July, August, and September, the four different regions that host Art for All reproductions will be highlighted. Local performers and artists will be featured, and special maps will guide you to find the original artworks in the museum's galleries.
Whether your family takes a ride along the Lunken Bike Path or the Loveland Bike Trail or visits each of the Boone County Libraries, we encourage you to be creative and to have fun interacting with the artwork this summer. Create scavenger hunts to find several Art for All pieces. Snap pictures of you, your kids, or even your family pet with the pieces. We'd love to hear what you come up with! To share your pictures and comments—and to stay up-to-date on the project—be sure to find us on Facebook, Twitter, and Flickr.
FIND ART FOR ALL
To help you find your way, a map of all 80 locations can be picked up at the Taft Museum of Art, community arts centers, select libraries in Northern Kentucky, and participating businesses and organizations across the area—anywhere you see an "Art for All" sticker in the window. For more information about the program and to find interactive Google map and downloadable maps for each region, visit http://www.taftmuseum.org under the Art for All tab.
ART FOR ALL is generously sponsored by
The Carol Ann and Ralph V. Haile, Jr./U.S. Bank Foundation.