Each week I like to try to find a new place to walk with the boys.  I try to find somewhere that has a paved trail for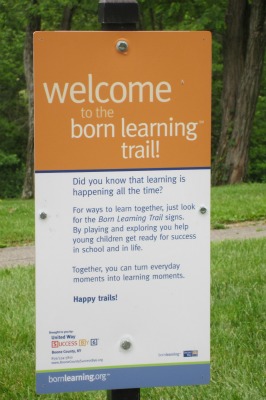 walking that also has points of interest for the young ones.  This week we explored the Florence Nature Park in Boone County.  The Florence Nature Park has a "Born Learning" trail that is a relatively short walk for any wee ones with you.  The scenery is beautiful, but what is extra special about this trail is that there are signs throughout that encourage you to have fun and interact with your child.  The signs give you ideas for little games you can play, or topics of conversation that are fun for young children.  We had a great time stopping at each sign and doing fun things like making silly faces in an effort to make the other person giggle, or telling stories about what we saw on our walk.
After you finish up the walk on the trail (which we did twice today because the boys had so much fun) you come to a great shady play area.  There is no playground equipment at this park, but what they do have are giant stone animals.  Those of you from my era who shopped at Florence Mall back in the day might remember these concrete creatures from when they resided at the mall.
There isn't much to this parks…not alot of bells & whistles, but quite frankly, sometimes we like a no-frills park.  It was quiet & peaceful and perfect for exploring and discussing all that we saw.  The park had plenty of shade for my sun-burn prone children and also lots of benches for sitting and reading and picnic tables for lunch in the park.  Before we left Sam extracted a promise from me that we would have a picnic there next time we go.
The Florence Nature Center is located off of Banklick Street in Florence.  You can find directions and more about the park here, on their website.  The Nature Center also has a building available to rent & a gorgeous gazebo on the grounds.