Giveaway Closed. Congratulations to FFC reader, Gretchen.

This is the time of year that sees a favorite event return to the area…for the 45th time! That's right, Summerfair Cincinnati is in its 45th year this year and it's back at Coney Island for another wonderful weekend!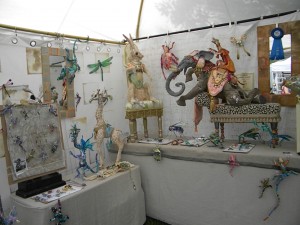 June 1, 2 and 3 are the days to remember…3 days filled with art, tasty food and family fun. Summerfair is an amazing collection of some of the coolest and most amazing artists you'll find anywhere in the world…more than 300 of them, in fact!   It's not just for you grown-ups either….this is an event for the whole family! The kids can get involved at the Youth Arts Rock area and make art of their own!  There will be regional performers on hand to help keep you entertained and let us not forget the 'gourmet arts'…aka Tasty Treats!  There is so much to do you really need to make a day of this incredible event and Family Friendly Cincinnati can help you do that!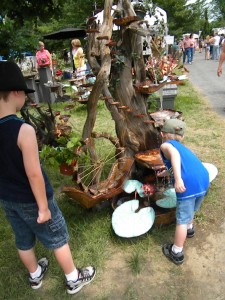 We have a pair of tickets to give away to one of our readers! Since children under 12 are FREE and parking is FREE as well (courtesy of Summerfair Cincinnati!) it's easy to make this an all day event for you and your family!
Dates and times of the event are:
Friday, June 1:           2:00 p.m. to 8:00 p.m.
Friday, June 1:           7:00 p.m. to 11:00 p.m. (Little Black Dress Event, tickets sold separately)
Saturday, June 2:       10:00 a.m. to 8:00 p.m.
Sunday, June 3:          10:00 a.m. to 5:00 p.m.
!!!GIVEAWAY!!! 
To enter please do one or ALL of the following:
Subscribe to our eNewsletter  (in the top right hand column)
Contest will run through Wednesday, May 23rd at Noon.  You must be 18 and a resident of the Greater Cincinnati area to win.  Once announced winners will have 24 hours to respond and claim their tickets or a new winner will be drawn.  Please leave a separate comment IN THIS POST for each entry.
Regardless of whether you win this is a great event for you and your family!  It's quickly becoming my family's 'kickoff to summer' activity and we can't wait!!  For details, to order tickets for The Little Black Dress Event or directions please visit the Summerfair Cincinnati website.  Good Luck!
For more chances to win visit:
Amy at In A Galaxy
Michelle at I'm Living the Good Life
Karen at Little World After All
Katie at the little things
Kristin at MasonMetu
disclosure:  Family Friendly Cincinnati was given a pair of tickets to attend the event as well as a pair of tickets to giveaway to one of our readers in exchange for promoting this event.  That being said, the excitement and rave reviews you read above are 100% our own, as always. 
When not blogging at Family Friendly Cincinnati you can find Amy Q. writing at her own blog In A Galaxy.