UPDATED TO ADD: We're sorry to report that the childcare we have set up will really only work for kiddos three and up!  Sorry for this oversight on our part. 
Yes, MOTHERHOOD is awesome – the best job ever…my kids are my world…I love each and every minute with those sweet cherubs…yada yada yada… But there are days, long, long days, days when you can't go to the bathroom without an escort, days when you can't remember if you fed them breakfast much less shaved both legs (yours not theirs because that would be weird), days when if you hear the word MOMMY one.more.time. you'll become a day-drinker.  We know and your secret is safe with us.
Moms need a break now and then. A chance to finish a sentence, eat off their very own plate for a change, relax, breathe and repeat.  Sure, Mother's Day is great and quickly approaching, but in my experience we do just as much MOM-running that day as we do any other. You know this, we know this, Whole Foods knows this, so we put our WONDER TWIN POWERS together to give you a morning of just what you need: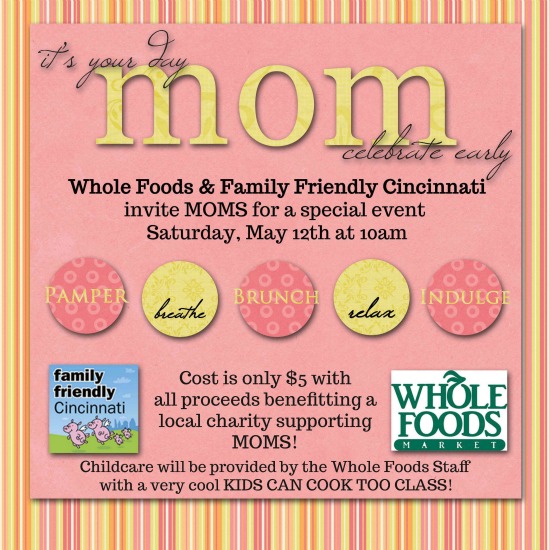 We've got a jammed pack morning guaranteed to renew, refresh and relax you:
Enjoy a delicious BRUNCH from the culinary wizards at Whole Foods

Choose from mini FACIALS or mini MASSAGES

Get some Spring and Summer wardrobe ideas with a FASHION SHOW from our friends at

Eddie Bauer in Rookwood

DOOR PRIZES for some

GIFT BAGS for all

Time to breathe, chat and just be you
This is all happening 10am May 12th at the Rookwood Whole Foods (registration begins at 9:45am).  We know childcare can be tricky, especially on a Saturday morning, but don't fret!  If you need to bring the kiddos with you, the amazing staff at Whole Foods will entertain (read: keep 'em out of your hair) with a very cool KIDS CAN COOK TOO CLASS followed by some snacking of their own and a craft or two! Everyone wins here Moms!  Please make sure to register ALL children attending so we have the proper amount of distractions, er, I mean suitable activities planned for them.
To register,
please go to our EVENTBRITE page to reserve a ticket
(click the pic above for a direct link).  Once you do, we'll PAYPAL you an invoice for the tickets – you will not pay for the tickets through Eventbrite.  Your tickets are confirmed once we receive your payment.  And bonus!  ALL proceeds from ticket sales are being donated to a wonderful local charity supporting MOMS in our community.  So your morning getaway is also doing good for others!  Again, everyone wins!!
We only have spots for FIFTY lucky moms, so hurry, get your tickets today and come getaway with Whole Foods and Family Friendly Cincinnati. 
Got questions?  I'll get you answers…just leave a comment here below.