Shining a spotlight on local non-profits and the amazing work they are doing in our community is something we here at Family Friendly Cincinnati are passionate about.  As such, please join us in welcoming a guest post from Bridget Castellini, a volunteer with Girls on the Run Cincinnati.
————————————————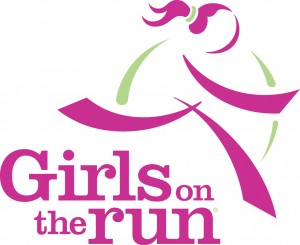 One thousand preteen girls in greater Cincinnati are taking a giant step closer to higher levels of self-esteem, improved eating attitudes and improved body images thanks to the power of Girls on the Run of Greater Cincinnati, Inc. (GOTR), a nationally-recognized, non-profit prevention program that is inspiring girls to be healthy and confident using a fun curriculum that creatively integrates running.
This spring, it has been our privilege to offer our unique GOTR programs at 82 locations (area schools and community centers) in greater Cincinnati.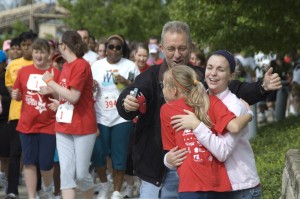 Through one-hour after-school sessions, GOTR combines training for a 3.1 mile running event with self-esteem enhancing, uplifting workouts. The goal of the sessions is to encourage positive emotional, social, mental, spiritual and physical development. Our participants are learning first-hand, valuable life-lessons that will give them the tools to make healthy decisions and form healthy self-images.
In addition to a new lesson each week, our participants train to participate in a 5K race at the end of the season.  It's really neat to watch the girls increase their ability a little bit each week, to the point where they will be able to complete 3.1 miles. Finishing a 5K is a wonderful accomplishment at any age, and the girls will be moved to achieve this milestone.
The end of our twelve-week season is drawing near, and the pre-teen girls – along with their supporters and running buddies – will come together to participate in their very own 5K event, which will take place on May 12 at Paul Brown Stadium.
I'd like to personally invite you to walk or run our race next to our amazing participants.
You can expect pre-race fun starting at 9AM, with tiara decorating, hair coloring, and face painting. Every child will also receive a medal and goody bag at the end of the race. All race proceeds will benefit Girls on the Run programs in Greater Cincinnati.
This is a unique opportunity for adult runners and walkers to join more than 1,000 pre-teen girls in their first 5K accomplishment. Runners will have the enjoyment of the race as well as knowing that they are supporting local pre-teen girls at the same time. We continue to provide over half of our participants with financial assistance through sponsorships, donations, and race day registration.
GOTR provides guidance at a crucial time in a pre-teen's life. Alarmingly, almost two-thirds of girls in 5th –12th grade are dissatisfied with their body shape and want to lose weight. We've learned that girls who participate in physical activities have higher levels of self-esteem, better body images, lower levels of depression and are 40% less likely to smoke.
The proven success of GOTR – a national program with trusted sponsors like New Balance, Athleta and Secret operating nearly 110 chapters across the United States and Canada – is another reason why the organization is flourishing in Cincinnati.
We are in our 7th year in Cincinnati and reached our 5,000th program participant in the Fall. Our goal is to reach every 3rd – 8th grade girl in our area with this important program.
For more information about GOTR Cincinnati, please call (513) 321-1056 or send an e-mail to [email protected] or visit www.gotrcincinnati.org.
_________________________________________________
Want to help provide the lessons and positive role model support of Girls on the Run?

Support a life-changing program for girls and reach hundreds of Greater Cincinnati families.

Each year, over 1,000 local girls are only able to join Girls on the Run because we are able to provide scholarships. Without this financial support, those girls wouldn't be able to participate.  Please consider sponsoring a girl for $150. We will apply your gift to help a girl in need, so that we can continue to reach all girls with interest regardless of their family's ability to pay.

Help her experience this important athletic achievement in a positive environment with her peers. By connecting girls to running and to each other, you can help her begin the journey into adolescence with a healthy attitude about herself and the girls around her. Please consider getting a girl to the starting line by clicking here: http://gotrcincinnati.org/support/donate.asp.
Volunteer with Girls on The Run Cincinnati

The organization depends on encouraging, community-based volunteer role models throughout the year.     Our single greatest volunteer need is working twice a week for 12 weeks directly with the girl as a volunteer coach. Coaches are the backbone of Girls on the Run, and you don't have to be a runner to be a coach – just a healthy role model. Training is provided and the lessons are professionally designed. To learn more visit:  http://gotrcincinnati.org/volunteer/coach.asp

If you can't be a coach, there are plenty of other ways to volunteer listed on our website. Your gift of time and energy will make a lasting impact.