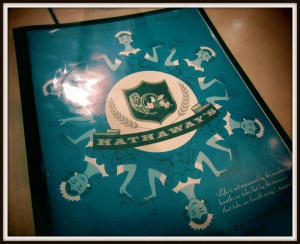 Remember that little corner diner you used to go to with your Grandma after shopping for your Easter dress?  Or that place that had the most delicious milkshakes that you and Granddad used to go to as a treat on Sunday afternoons?  For me it was Covington Chili or Woolworth's  (anyone remember them?  No? Am I that old?  Don't answer that!)   If your answer is yes, or even if it's not, you'll want to check out Hathaway's Diner in Carew Tower!
Hathaway's is located in the heart of Downtown Cincinnati on the ground floor of Carew Tower and they've been serving up the best in comfort food since 1956.  Walking through the front door is like walking back in time, right down to the twin horseshoe counters where you can sit to have your cup of fresh brewed coffee and hot breakfast, served to you by lovely ladies dressed in uniforms that were considered diner chic in the 1950's.   Take a break from shopping and grab a sandwich and tasty milkshake (some say the best in the city!) or even breakfast, it's served all day.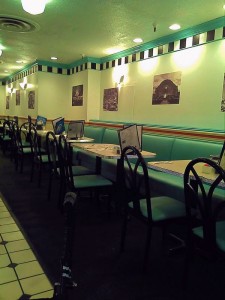 Katie S. and I recently took a trip downtown with the kiddos to have some breakfast and take a walk around the city.  I used to be a Hathaway's regular back in the day but hadn't been in for at least 9 years…and let me tell you, nothing has changed!  Same delicious and affordable food, same nostalgic atmosphere, even the same staff!   Katie had the traditional eggs, bacon and toast breakfast and her son had banana pancakes which I heard were absolutely delicious!  I had a cheese omelet with hashbrowns and toast and it really hit the spot!  All of our food was tasty, served hot and fresh and by very friendly staff.   All in all it was a great outing…downtown sights, a little shopping and tasty breakfast.  What more could you ask for?!
If you head down to Hathaway's Diner make sure you take enough time to check out Carew Tower Mall or head over to Fountain Square while you are there!  Make a day of it!
Hathaway's Diner is located at 441 Vine Street (Carew Tower, Ground Floor) in Cincinnati Ohio.  Their hours and days of operation are:
Monday through Friday: 6:30 a.m. until 4 p.m.
Saturday: 8 a.m. until 3 p.m.
When she's not blogging  for Family Friendly Cincinnati you can find Amy Q. writing at her personal blog In a Galaxy.