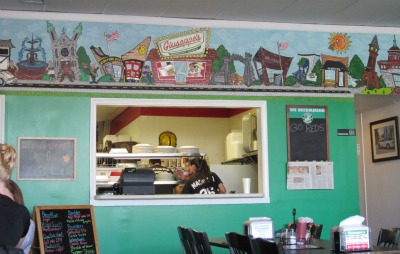 Tonight my family dined at a great restaurant in Covington, Giuseppe's Neighborhood Pizzeria.  The name ALMOST says it all.  It is indeed a neighborhood restaurant, and they are indeed a pizzeria.  But they offer so much more than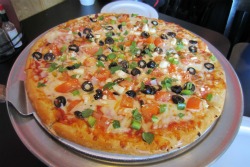 pizza!  They have salads, sandwiches (26!), sides and also a pretty cool selection of beers, and all of their menu items have fun names.   We dined on a Levassor Park Garden (perfect for veggie lovers – green peppers, tomatoes, mushrooms, green & black olives and feta – see picture at right), the kids had a half pepperoni/half sausage pizza, and we had a side of loaded fries.  YUM.  It took me forever to decide on what to get because there were so many choices that sounded appealing.   I loved the Levassor Park Garden – it was a perfect blend of flavors & toppings,  but I cannot wait to go back and try the Peaselburger (a bacon cheeseburger pizza!).  All of the food at Giueseppe's is home-made…the dough, the sauce, and twice a week they have a "Pasta Night" with homemade Lasagana or Spaghetti & Meatballs, and all of their veggies are fresh.  I wasn't the only one happy with our dinner, the kids chowed down on the pizza & fries!  Check out their menu, they have several "Neighborhood Pizzas" that are named after local neighborhoods and have a fun mix of toppings.  OR you can always pick your own toppings. 

Giuseppe's is locally owned and has awesome service.  Our waitress was so sweet & attentive, and the food was ready in a jiffy.  I loved that we could see all of the action going on in the kitchen, and that the owner was right there in the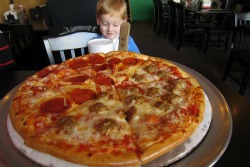 midst of it making pizzas & chatting with the customers.  He went around to every single table and made sure that everyone was happy with their food.  He knew many of the folks by name.  I love eating at restaurants that have that "neighborhood hangout" sort of feel to them.  There was quite a mixed group at the restaurant while we were there…many folks coming in to pick up carryout, a few families, some ladies meeting for pizza & beer after work, a single guy watching baseball and enjoying a hoagie, and a few friends catching up.  We all enjoyed the decor at the restaurant – it was a bright and bold display of Italian heritage & Covington pride.  Two walls are painted like the Italian flag, and decorated with pictures from around Covington.  And above the kitchen window is a cool mural of Covington landmarks.
Giuseppe's is tucked away in a small set of shops at 2607 Madison Avenue in Covington.  It is not a large restaurant,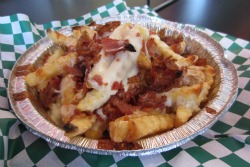 there are only eight tables, but hey, if you show up and they are full you can always carry out!  I watched the carryouts, and it seemed that the orders were ready quite quickly.  Giuseppe's also delivers anywhere in Covington (I'm sort of bemoaning the fact that I live outside their delivery zone, thank goodness there's carryout!).  And their food is VERY reasonably priced – I could not believe how much food we got for under $30.  If you are looking for a family friendly place to grab a pizza, sandwiches or salads head to Giuseppe's!  And after you have your fill, drive a few blocks to Dari Crest (read Michelle H's post about them here).
Giuseppe's Neighborhood Pizzeria ~ 2607 Madison Avenue  Covington ~ 814-8444 ~ Find Giuseppe's on Facebook