We want to welcome Jaime Pierson from the March of Dimes March for Babies.  Jaime is the Kids Zone Chair of the March for Babies Logistic Team and got involved with MOD when her daughter Nora was delivered and passed away at 27 weeks into her pregnancy.  The March of Dimes is working hard to assure a day comes when families do not have to worry about premature births and all babies are born healthy.
____________________________
This year the Cincinnati  March for Babies walk is on Sunday, April 29th starting at 9:00 a.m. at Paul Brown Stadium.  All proceeds help moms have full-term pregnancies and research the problems that threaten the health of babies. There is a scenic six mile walk through Cincinnati and Northern Kentucky or  you can do a 3 mile Family Walk that stays on the Cincinnati side of the river.  Both walks include a circle inside Paul Brown Stadium and Great American Ballpark. For more information or to register your family to walk please visit www.marchforbabies.org.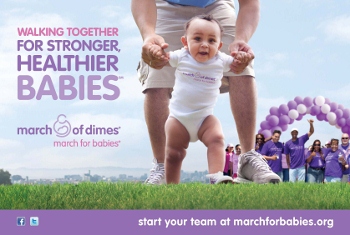 After the walk we have a wonderful festival full of free family friendly activities donated by local vendors such as Blue Manatee Books, Cheers to Art, Cool Critters Outreach, Contemporary Arts Center, EnterTRAINment Junction, Charlie Cadabra, Recreation Outlet, Noodles and Co and much more.  We also have a wide variety of local restaurants offering free samples of their favorite dishes.
This year we are pleased to announce the first ever March for Babies Kids Fun Run on the Yeatman's Cove lawn at Sawyer Point  (10:30 a.m).  Watch your kids, ages 0-9, run or crawl for fun in age specific heats and lengths.  Register before April 22 and registration is only $10.00.  Paid participants will receive a Kids Fun Run t-shirt and surprise at the finish line.  For more information or to register your child for the Kids Fun Run,  click here.
Photos courtesy of the March of Dimes March for Babies.
If you can't make the event in Cincinnati, there are also other March for Babies walks in Ohio.  Click here for more information.
When not blogging for Family Friendly Cincinnati, you can find Kristin writing on her personal blog, MasonMetu (from me to you).