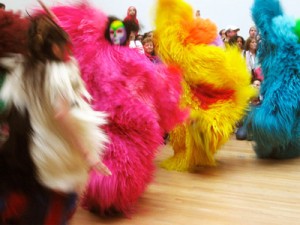 Do you go to the Cincinnati Art Museum with your kids? Well, you should. It's fantabulous and it's free. Well, almost free, you do have to pay $4 for parking, but that's still the deal of a lifetime. We go a few times a year to check out what's new, what's old and what we missed seeing the last time we went.
Our past visit was perhaps one of our families favorite visits to the Art Museum EVEH! My husband and I went because we wanted to check out the Monet and Picasso exhibits. They were both very nice and met our expectations, but the exhibit we knew nothing about prior to going was the one which captivated all of us especially my seven year old son: Nick Cave: Meet me at the Center of the Earth. Awesome. Amazing. Spooky. Whimsical. Spell binding. Clever. Unique. The list of words to describe what we saw and felt as we walked through the Musuem looking at Mr. Cave's work are endless. You must go. Really you must.
What's all of the fuss about? Well Nick Cave has created costumes or what he calls "soundsuits" that are just eye captivating to add to my list of words above — by following green strips of tape placed on the floor of the Museum, you can walk around and see his costumes exhibited on mannequins all throughout the Museum. There were some where we thought someone must be inside of them. Some were made of brightly dyed human hair; some were animals made out of sweaters (we really liked these); some were made of crochet "squares" from quilts; others were completely covered in buttons or beads or sequins. I'm really just scratching the surface on the materials used. Be sure to take a little time to really look at these to notice all of the varied and intricate patterns and material used. My kids had to have me help them see the cool things used to make some of these.
Unfortunately you can't take any photos of the costumes on display, so all I have to share is the photo from the Cincinnati Art Museum website as well as this short video. We didn't get to see any of them worn on real people, we all decided that must be quite amazing to see.
You have about a month left to go and check this exhibit out. It runs through April 29th. The Cincinnati Art Museum is open Tuesday through Sunday 11 am to 5 pm. It's located on Eden Park Drive.
If you've been let us know which was your favorite Nick Cave costume.  My favorite were the bears made of sweaters. If you go, stop back and share with us what you liked the best.
Photo and video credit to the Cincinnati Art Museum.
When not blogging for Family Friendly Cincinnati, you can find Karen writing at her personal blog, Little World After All.