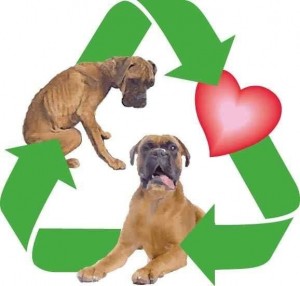 I don't know about you but we are all animal lovers in our house.  In fact, my oldest considers himself something  of a Dr. Doolittle when it comes to any critter out there.  I'm quite certain that given the chance he would have a small zoo in the back yard.  Dogs, however, are the animals closest to our hearts.  There is just something about those big, loving eyes and happy, wagging tails that pull at our heart strings every time.
That might be why we are such huge supporters of Recycled Doggies, a wonderful non-profit organization that rescues shelter dogs and saves them from being euthanized.  Shannon and Shera, the co-founders of Recycled Doggies, met while volunteering in a Kentucky shelter.  In 2009 they founded Recycled Doggies so that they could do more to help the dogs that shelters often consider 'un-adoptable' for reasons like age, weight, what type of condition they may be in, breed, etc.  Many older animals aren't even given a chance to find a new loving family because their advanced age is considered a deterrent to potential adoptive 'parents'.  Many dogs with medical conditions, or ones in need of surgical services of some kind, would also be considered not adoptable.  Many of these animals just need a little extra TLC and a visit to the vet, but unfortunately in a shelter they just don't see that kind of attention.
Enter Shannon and Shera!   These amazing women take in these un-adoptable dogs and 'recycle' them…that is, they clean them up, pamper them a little, get them checked by a vet and get them healthy, and then find loving homes for each and every one of them!  They do not have an actual facility to house their animals…all of the Recycled Doggies are taken in by a loving  network of foster moms and dads who donate their time and open their hearts and homes to these wonderful animals.  At any given moment there are between 30 and 50 dogs being fostered by Recycled Doggies volunteers.  Not all of those animals are ready for adoption… at times there are many puppies being weaned and taken care of, and some are dogs who need more devoted medical attention, but all of these dogs are being given a new life by this network of amazing people!  I mean, look at their little faces and tell me…do they look un-adoptable to you?
Not only do Shannon and Shera save dogs by taking them in, they also save them by way of the Cincinnati Pet Food Pantry!  They founded the Cincinnati Pet Food Pantry in March of 2010 to help low income dog owners feed their furry friends and save them from having to be surrendered at a shelter.  In Shannon's words:
We founded the Cincinnati Pet Food Pantry in March 2010 to help struggling low income pet owners avoid having to surrender their pets to shelters by providing pet food assistance to help them keep their pets.  We distribute food once a month from our location which is now located in the Madisonville/Oakley area.  Qualifying pet owners must demonstrate that their household income is below 200% of the federal poverty level.  We accept monetary and food donations to help us run the Pantry.  We have 16 donation drop off sites around the city where the public can drop off unopened, unexpired pet food donations.  The list of donation sites is on our website www.cincinnatipetfoodpantry.org
All in all, pretty amazing!  I am so in awe of everything that Recycled Doggies and the Cincinnati Pet Food Pantry do for so many animals.   If seeing the cute faces above made you consider adding a furry friend to your own family then check Recycled Doggies out on Twitter,  on Facebook or on their website.  They host adoption events nearly every week at the Petsmart in Milford.  The schedule of events can be found on their website along with an adoption application and photos of the adorable Recycled Doggies available for adoption right now.  They have dogs of all shapes, sizes, and ages so they are guaranteed to have one that will be perfect for your family!
Not ready to add to your family but still want to help?  They are always in need of clean towels and blankets, dog toys, carpet squares, and dog crates. The Pantry will take unopened and unexpired cans and bags of dog food.  There is also a secure link for making monetary donations to either the Cincinnati Pet Food Pantry or Recycled Doggies.  My kids made this a service learning project by collecting clean towels, blankets and other items to donate to the organization.  (Of course, I think they were just angling for a reason to visit and pet all of the doggies!)
The next adoption event is this Saturday, March 31st at the Milford Petsmart from 11 a.m. to 4 p.m.  (Do check before you head out and make sure there haven't been any changes to dates/times.)  Stop by and find a furry friend of your own!
When she isn't blogging for Family Friendly Cincinnati you can find Amy writing at her personal blog In A Galaxy Far Far Away.