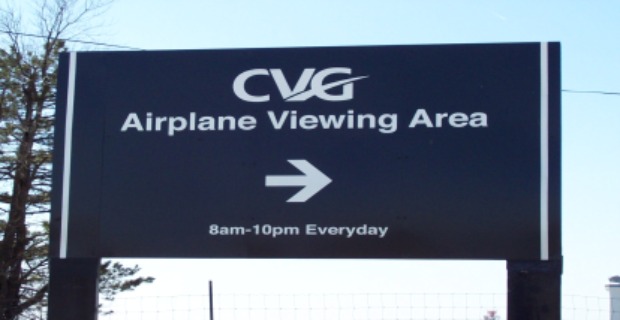 Remember the days when you took someone to the airport and you walked all the way back to watch them get on the plane?  Then you waited with your face pressed against the glass as their plane slowly lifted off the ground and became a tiny dot on the horizon?  No?  Just me?  Oh come on!  Well, even though you can't watch up close and personal, you can still enjoy the wonder of the airport viewing area.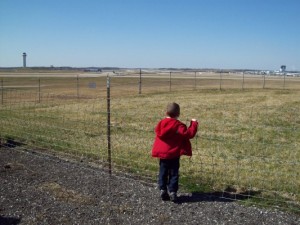 I took the kids on a Friday afternoon and we were able to see 3 planes take off and a little over a half dozen land, in about a 45 minute time period.  Our favorite part was seeing the planes take off.  Depending on what day of the week you go, you may see more or less activity.
The CVG Airport Viewing Area is a concrete parking lot surrounded by park benches and a couple of picnic tables.  It is as peaceful as a park next to an airport can be.  You can experience the thunderous sounds of jets as they land and you can take in the view of the airport.   We sat outside for a few minutes but it was windy and a little cold, so we climbed back in the van and enjoyed the view from there.  And, it was just as nice……and warmer!
It was nice to sit in the car with the kids and quietly watch the planes come and go.  We wondered where the passengers were headed.  Were they going on vacation?  Were they coming home from a long trip?  Or maybe in town to visit relatives?  It was just what we needed to get us out of the house for a short time on a day that was a little too chilly to play outside too long.
Another interesting point about the CVG Airport Viewing Area is that on this site in 1880 was the exact center of population in the United States.  Just a little something of historic note
Even if you just have 20 minutes to spare while you are in the Erlanger area, I encourage you to take a break and check out the CVG Airport Viewing Area.
Located on Donaldson Road in Erlanger, Kentucky, you can watch airplanes take off and land from 8:00am to 10:00pm everyday, free of charge.  I imagine it is a different world at night, as you see all of the lights in action.
To get there:
Take 275 toward the airport and get off at Mineola Pike.
If you are going west, turn left off the exit, away from the ferry.
Go all the way down Mineola until it dead ends onto Donaldson Road.
Turn left on Donaldson.
Watch carefully for the sign because you will be turning right into the CVG Airport Viewing Area quite quickly.
When not blogging for Family Friendly Cincinnati, you can find Michelle writing at her personal blog, I'm Living the Good Life.