It's time for the FINAL installment of the Macy's Arts Sampler presented by ArtsWave. You only have one last day – THIS Saturday – to enjoy TONS of FREE arts related events and activities across the Tri-state with your family (until next year, that is!).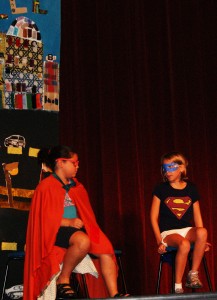 As we've mentioned before, Macy's Arts Sampler celebrates all things creative —theater, dance, museums, music, and festivals — happening in large and small ways throughout our region. Highlights for this weekend include:
Middletown Arts Center – Jack and The Gentle Giant with Madcap Puppets
Taft Museum of Art – Musical Performances, Craft Making & More
Hamilton County Library (downtown) – Silhouette Making & Live Music
Emanuel Community Center – My Nose Turns Red Youth Circus & Dance Lessons with Ballet Theatre Midwest
Cincinnati Ballet – Day in a Life of a Dancer, Plus Dances from Other Cultures
A complete schedule is available on www.theartswave.org….. or….  you can check out their new smartphone app and have the schedule at your fingertips.
Macy's Arts Sampler Smartphone App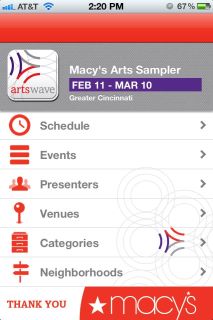 This year ArtsWave is making it even easier for families to find events to attend with the launch of an Macy's Arts Sampler smartphone app!  The free event-based app is available on all platforms and provides an easy way to find, choose, and plan for festival events that match your schedule, neighborhood, and household interests.  You can search by category – theatre, dance, etc; part of town; venue; and even by age range! You can learn more about the app, and download it, here.
Editor's Note: While we try our best to be accurate, sometimes event details/information can change. We highly recommend our readers visit the website of the business or event we've written about before taking any action.