It's baaaaaaack!
It's time for the second installment of the Macy's Arts Sampler presented by ArtsWave. This Saturday you'll once again have the chance to enjoy FREE arts related events and activities across the Tri-state  for families with children of all ages.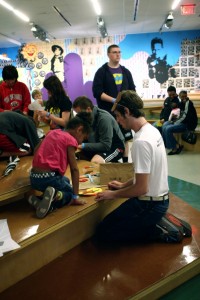 Macy's Arts Sampler celebrates all things creative —theater, dance, museums, music, and festivals — happening in large and small ways throughout our region. Highlights for this weekend include:
Kennedy Heights Arts Center — Art, Dance and CUlture of Haiti – make masks, learn Haitian dance and culture
Sharonville Fine Arts Center – Bi-Okoto Cultural Institute: traditional African drumming and dance; Scenes from "The Odd Couple with Cincinnati Black Theatre Company; and Traditional Chinesedance with Bing Yang
Thunder-Sky Inc – Small Potatoes: gallery show and art making.
University of Cincinnati – Clermont – "The Ugly Duckling"; Art treasure hunt, facepainting and more
Visionaries and Voices – Create family tree tiles with local artists
Kenton County Library (Erlanger) – KSO's Newport Ragtime Band
A complete schedule is available on www.theartswave.org….. or….  you can check out their new smartphone app and have the schedule at your fingertips.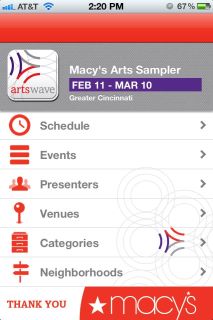 Macy's Arts Sampler Smartphone App
This year ArtsWave is making it even easier for families to find events to attend with the launch of an Macy's Arts Sampler smartphone app!  The free event-based app is available on all platforms and provides an easy way to find, choose, and plan for festival events that match your schedule, neighborhood, and household interests.  You can search by category – theatre, dance, etc; part of town; venue; and even by age range! You can learn more about the app, and download it, here.