CONGRATULATIONS TO OUR WINNERS!  SHELLY AND TRACY!  LOOK FOR AN EMAIL WITH THE DETAILS LADIES!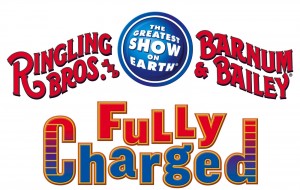 Who doesn't love a circus?!  We certainly do.  You are simply going to love the new Ringling Bros. show…it looks amazing.   New acts along with old some favorites…so many things to see!  Here's a little about the new show:
The most electrifying edition ever of Ringling Bros.®celebrates performance power that boosts circus-goers excitement. The amazing acts, which can only be seen at The Greatest Show On Earth®, include Tabayara, a dynamic animal trainer whose rare ability to communicate with animals allows him to ride rearing stallions at a fully charged gallop and orchestrate majestic four-ton Asian Elephants in a symphony of dance. When he stands inside a cage, eye to eye with twelve ferocious tigers, Tabayara sees family where others see danger.

The Fearless Fernandez Brothers dial up the thrills as they perform daring feats of athleticism on the Twin Turbines of Steel, including, extreme jumps and twists inside the moving wheels! Audiences will crackle with excitement as they watch Guillermo perform a three hundred sixty degree flying forward somersault, three stories in air, a feat so difficult it has only been attempted by one other person in the 141-year history of Ringling Bros.The Human Fuse, Brian Miser, sets the arena sky ablaze as he rockets through the air from his self-made human crossbow. Don't blink as he flashes across the sky in less than a second, and travels 80 feet at 65 miles per hour.

Ever wonder how many clowns it takes to change a light bulb? The hilarious hoopla continues to flow as the clowns from the world-famous Ringling Bros.®clown-alley, charge-up the audiences' funny bones with hysterical silly antics and clownish comedy. You can only experience this current of excitement at Ringling Bros. Fully Charged! Get your ticket for high-voltage fun today!
Are you as excited as we are??  Wouldn't it be cool if I told you we have TWO family 4-packs of tickets to give away to some lucky Family Friendly Cincinnati readers?!  Well you are in luck, because we do……
WIN | WIN| WIN
You have 3 ways to enter, so that's 3 chances to win!  Please leave a SEPARATE comment for each entry ON THIS POST to enter.
Tell us your favorite circus act and why.  Personally I love the trapeze acts…they are amazing.  I am scared to death of heights but would still love to try it out…those adorable outfits they wear would be worth it.
Subscribe to our e-newsletter (at the top of the right hand column).
'Like' us on Facebook or join our community forums.
That's it.  So easy to enter and you could find yourself and your family at Ringling Bros. Fully Charged courtesy of Family Friendly Cincinnati.
Now for those pesky details: You must be 18 to enter.  Winner will be chosen on Friday, February 24 at 3 p.m. using random.org.   Once chosen, winners will have 24 hours to respond or another winner will be selected.  Tickets will be made available at Will Call at US Bank Arena, photo ID required to claim tickets.
Don't wait until showtime to head down for the show or you'll miss out on the All Access Power Up Pre-Show Party.  It's free and it's up close and personal.  You can check out props, meet performers, and register for a chance to win a painting done by one of the Asian elephants.  Can't wait to see if you'll win?  You can still take advantage of this awesome opportunity to grab a family pack of tickets plus goodies.
Want more chances to win?
Some of the Family Friendly contributors have giveaways up on their personal blogs:
Good luck!
I am a Feld Family Ambassador, and in exchange for my time and efforts in attending shows and reporting my opinion within this blog, as well as keeping you advised of the latest discount offers, Feld Entertainment has provided me with complimentary tickets to Feld shows and opportunities to attend private Feld pre-Show events. That being said, the opinions expressed in this blog are always 100% mine.
When she isn't blogging for Family Friendly Cincinnati you can find Amy writing at her personal blog In A Galaxy Far Far Away.