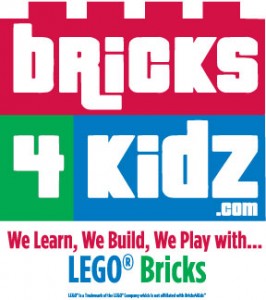 One of the things we enjoy most here at FFC is raising awareness about small businesses in our community that are working to make life more fun for Tri-State families. Today we are excited to shine a spotlight on Bricks 4 Kidz of North Cincinnati, a creative learning program run by Anthony and Lizz Mele, that uses Legos (and fun) to teach kids about science, engineering, mechanics and architecture.
————————————————————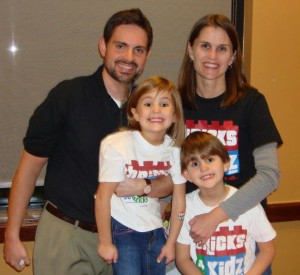 Your names, title
Anthony and Lizz Mele, Owners, Bricks 4 Kidz of North Cincinnati

Tell us about Bricks 4 Kidz?
Bricks 4 Kidz is a creative learning program that teaches children concepts in science, engineering, mechanics, and architecture using LEGO® components such as gears, axels, motors, and bricks. Our lesson and model plans and the kits we use are unique to the Bricks 4 Kidz programs.
What kind of programs do you offer?
We offer after school and evening enrichment programs which we call "LEGO® Labs", half day summer camps, home school classes, in-school field trips, LEGO®-themed birthday parties, and special events.
We were really surprised to learn you also create curriculum that can be incorporated in to the classroom. Tell us more.
Our in-school field trips are an opportunity for kids to get a great hands-on learning experience without the high expense of traveling to an off-site location. We come into a school and lead classes though a lesson and a model build on a wide variety of subjects such as space, animals, transportation, simple machines, famous buildings, and much more. We have a long list of model builds that can be an exciting addition to a teacher's curriculum.
How did you decided to start this business?
Anthony has always had a dream of owning a family business but we struggled to find a business that we could get passionate about. When we discovered the Bricks 4 Kidz opportunity, we fell in love with the concept and really felt compelled to bring this program home to our community. We really feel the program offers an amazing combination of education and fun.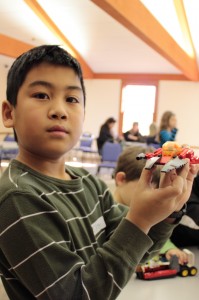 What do you love about your job?
So much! I love connecting with families in our community and meeting so many great and creative kids. If I had to choose, my favorite moments in this job involve watching the kids get consumed with the model building. I love seeing the sparkle in their eyes when they successfully build one of our models and then add to it or enhance it in their own way.

How can people learn about your events?
For the most up-to-the-minute announcements, the best way to go is with Facebook: www.facebook.com/B4KNCincy. We love the Facebook format because it allows us so much opportunity to for a two-way conversation between us and our customers. Our website: www.bricks4kidz.com/ncincy offers the most detailed information about our programs. We also make announcements through Mason Metu.

When you aren't working, what does your family do for fun?
Build with LEGO® bricks of course! In addition, we enjoy having family movie nights, make your own pizza night, and going out to dinner together. We love playing card and board games as well. We all love to read. Sometimes, you might catch us playing Just Dance on the Wii. (Someday I hope to beat my 7 year old at that game.) In the summer we spend a lot of time at the Lakota Family YMCA pool and King's Island.
What are three local businesses your family loves?
I can't narrow it down to just three! We're very lucky to live within 10 minutes of some great local places. Here are a bunch:
Fratelli's Pizza
Buckner Martial Arts
Coffee, Beans, and Brew in Liberty Twp.
Sultan's Mediterranean Cuisine
Morgan Salons
How can people keep up with Bricks 4 Kidz?
Like us on Facebook: www.facebook.com/B4KNCincy or subscribe to our monthly newsletter, The Brick Pages.