There's something about children's art that touches me.  I love the innocence of their art, the vibrant colors they use, and how they portray the people and animals they love.  Every child is an artist and their art just makes you happy.  That's why I'm so thrilled to tell you about a young artist who is having their very first art show.  This young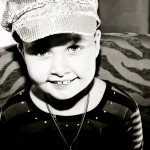 artist, Maya Collins, has been battling Acute Myeloid Leukemia (AML) since last April .  She spent over six grueling months in Cincinnati's Children's Hospital  and had to endure so much – shots, a myriad of tests, chemotherapy treatments, loosing her hair, nausea, severe vomiting and much more (click here to read more about her journey).  Even during some of the more difficult times, her endearing smile would light up a room. After undergoing a bone marrow transplant, Maya is cancer free and living at home. Even though she is home, she is basically home-bound since her body has to adjust to its new marrow and can't fight infections.  So, she's spending her third grade year at home and getting some quality bonding time with her family. She's also been working on her art.
Maya has lots of supporters and friends who have followed her journey during this time.  Two friends are currently working with the Leukemia & Lymphoma's Society Team in Training Program to raise money and awareness of childhood cancers.  (Click here for Lori's page and click here for Heather's page). After doing some brainstorming and networking with other friends, Heather enlisted the help of local artist, Kathy Hyatt,  in her quest to raise money in honor of Maya.  Maya has designed some adorable art that Kathy, in turn, is reproducing by hand onto various mediums – canvas, clay, cards, garden stones and more.  On Feb. 13, there will be an open house showcasing Maya's art and you're invited to attend and place your order.   Proceeds from the art show will go to help Heather Sampson's Team In Training fundraising efforts (kudos to Jackie & Rachel for hosting this event).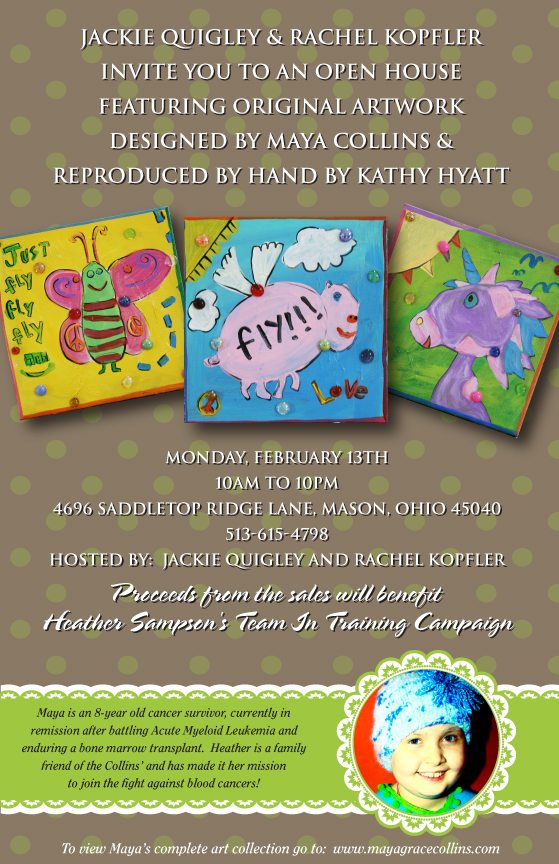 Even if you're not able to attend the open house, you can still purchase Maya's art by visiting her new website, Magnificent Maya.  Here you can also make donations directly to Children's Hospital Medical Center and you can even designate that your generous donation be directed to use for "AML research".
Disclaimer: Maya and her family are close friends of our family.  Our girls have been friends since preschool and Maya's Mom, Bonnie, is a dear friend of mine.  Helping to spread the word about Maya and her journey will hopefully encourage you to share her story and raise funds to support research in childhood cancers and blood disorders. Many thanks if you continue to spread the word.
When not blogging for Family Friendly Cincinnati, you can find Kristin writing on her personal blog, MasonMetu (from me to you).