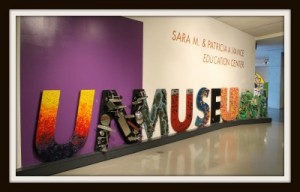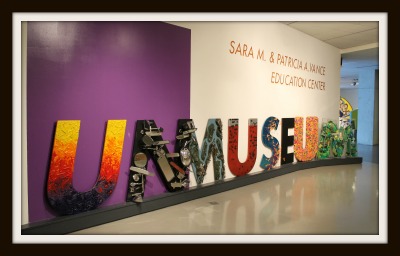 While Cincinnati's Contemporary Arts Center is a great place for adults to visit to see some fabulous works of art, did you know that it's also home to an art wonderland for children?  On the sixth floor of the CAC is a magical place for kids called the UnMuseum.  My friend Ms. Liz, who I know through her work at the Kenton County Library invited me to visit her other place of work – the UnMuseum.  Ms. Liz teaches Thursday Art Play at the UnMuseum, and thought that my children might enjoy a chance to get creative with her.  I decided that Thursday Art Play sounded like a grand adventure for me & Henry.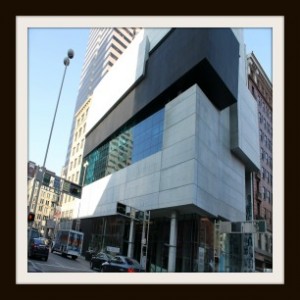 We showed up at the Contemporary Arts Center at 10 am, when they opened last Thursday, so that we could have some time to explore the UnMuseum before Art Play started (10:30).  Admission to the UnMuseum and to Art Play is free with paid admission to the CAC.
We took the elevator to the 6th floor, and Henry immediately jumped out of the stroller and began to check everything out.  We quickly discovered that the UnMuseum is a hidden treasure for kids of all ages.  The UnMuseum is not a huge place, but the installations are on a grand scale.  There is the Story Tree, the Telescoping house, the Hypar room, the Rockin' Trailer, the 12+12 (which combined music, color & lights), and much more!  All of the installations at the UnMuseum are kid-friendly, and encourage hands-on exploration & learning.  They were all so cool, and I think I had as much fun as Henry did.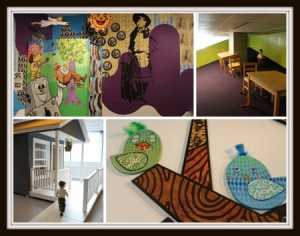 Henry's favorite installation was the Sensory Elephant, he spent much of his time hanging out with this colorful pachyderm.  The elephant was created by the Art Works Summer program.  Instead of trying to explain how cool this Elephant is, I'm going to share with you the description I found on the ArtWorks website:   ArtWorks Apprentices and Lead Artist Eric Brass developed an interactive sensory sculpture for any audience, but geared especially to sight- and hearing-impaired children. The project encourages all viewers to discover art through each of their senses. The end product is a large, colorfully quilted elephant sculpture. The elephant's body is made up of many drawers that, when opened, offer a multitude of sensory sensations. Open the wind drawer and feel the breeze. Open other drawers hear singing and the ocean, run your hand against beads or listen for footsteps. What else can you feel or hear when you open the drawers?   Henry loved using all of his senses to explore the drawers that make up this elephant.
At 10:30 Art Play began in the A-Z Art Lab, and the theme of the day was "Bouncing Balloons".  Ms. Liz &  Antwan Jones (the Associate Curator of Education) host Art Play every Thursday with a fun theme and several different projects planned.  For "Bouncing Balloons" the kids got to use powder paint with ice shaped like balloons to make colorful pictures, and then they used balloons dipped in paint to make more colorful pictures.  And finally, they painted on a large tarp with different sized balls dipped in paint.  Henry was in heaven!  I loved that Liz & Antwan were not afraid to do "messy" art work with the young kids.  They encouraged the kids to explore the materials & make crazy cool creations.
As well as Thursday Art Play the UnMuseum offers Family Saturdays once a month.  Admission to the UnMuseum, Art Play & Family is included with your admission to the Contemporary Arts Center. Thursday Art Play is for children ages 3-7 and their caregiver.  February's themes for Art Play are:  February 9th: Yummy Dreams; February 16th:  Glass Valentines with Brazee Street Studios (read this post that I wrote last summer about my love for Brazee Street Studios!); February 23rd: Story Quilts.  I am certain that the kids and I are going to make this a regular outing.  We had so much fun!
The Contemporary Arts Center is located at 6th & Walnut, Cincinnati.  We parked in the lot under Fountain Square and from there it was a very short walk to the Museum.  Check out their website for more details on hours, driving directions, and more.