Another Super Bowl will come and go and our beloved Bengals will be home watching it just like the rest of us…oh well, don't let that get you down. There is plenty to do around town before the big Bengal-free game.
First off, if you do have plans for a Super Feast on Super Bowl Sunday, check out FFC's top appetizers recipes. My mouth waters just looking at those tasty treats.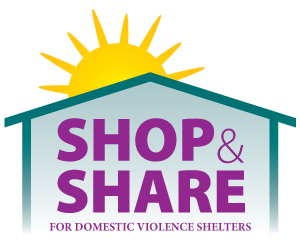 And if you are heading to the grocery to purchase ingredients for said yummy goodies, might I suggest a local Kroger's store in Northern Kentucky for your shopping pleasure? On Saturday, Kentucky's First Lady Beshears is heading up a new initiative in support of Kentucky's fifteen domestic violence shelters.  Thru Shop & Share Kroger shoppers will be given lists of desperately needed items to help restock the shelves of the shelters. They can grab an item or two as they are doing their shopping and then donate the items as they depart. I'm involved with this project because the First Lady has asked the Girl Scouts to help out. My little Daisies will be participating at the Ft. Mitchell Kroger's – so stop out and say hello.
Fitton Family Fridays are happening on…you guest it: Friday! A fun atmosphere and there is always something new.  Check their website for details!
Newport on the Levee will host a free concert on Saturday at 1pm – Raison D'Etre Trio Concert. Visit their listing for more information.
Need a place to watch the Big Game on Sunday?  How about Gameworks on the Levee?  The kids can play while you watch. And even if the game turns into a snoozer, there's plenty to do at Gameworks for everyone!  When you're there check the parking garage for special Gameworks coupons!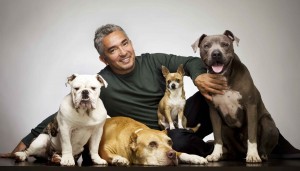 Parker is very excited about Cesar Millan's visit to Cincinnati. That's right, see The Dog Whisperer LIVE at the Taft Theatre on Sunday at 7pm.  Tickets are on sale now and FFC readers get a special $5 off coupon – use the password PUPPY online at www.ticketmaster.com.  Discount is only available online.
From our friend at Covedale Center for the Performing Arts:

The Covedale Center for the Performing Arts continues to grow as the region's most exciting theatrical venue featuring the best in local performers and performances.

Our 11:00 am Saturday Morning Children's Series continues with a performance by
Tom Sparough the Space painter on Saturday, Feb., 4, 2012

Tom Sparough comically juggles and paints an inspiring picture. This 25-year veteran performer juggles everything from Tic Tac Candies to bean bag chairs. Once dubbed the Prince of Comic Jugglers, he has also been described as a cross between Mr. Rogers and the Mad Hatter. Everything is up in the air when the Space Painter is on stage, and that includes children!

Tickets are: $5.00 each.  You can purchase tickets by one of the following methods: Call the box office @ 513.241.6550;     Log on to: www.cincinnatilandmarkproductions.com; or in person at the box office ticket counter – 4990 Glenway Avenue.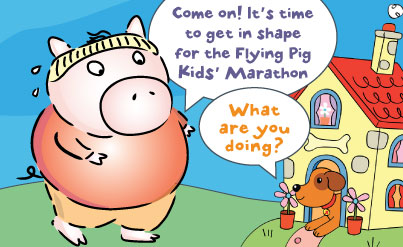 The Cincinnati Public Library is already geared up for the Flying Pig and they'll be doing a special Pig Party Kickoff on Saturday 2pm at the Main Library on Vine Street. Once there, head to the Children's Learning Center for a mascot race, prizes and refreshments.
the blue manatee are getting into the Valentine's Day spirit with a special class on Sunday that's full of heart. Kids 8 and up are invited to craft their own polymer clay valentines with Sandra Gross from Brazee Street Studios! They'll bake the crafts right there at blue and you can take them with you.  Space is limited and pre-registration is required.  Cost is $10, call 513.731.2665 to register.
Speaking of Brazee Street Studio – head there on Saturday from 10am to 3pm for their family-friendly and fabulous Open House (see our ad to the right and click for more details).  All this month they'll be making Valentines – don't miss this chance to make one of kind gifts from the heart!