I have a little monkey in my house.  He jumps from chair to couch balancing precariously on the edge of my brown leather armchair.  The other day he told me he could climb onto the windowsill like a cat!  And, he always wants to balance on the concrete dividers in parking lots.  Well, enough of that!  Let's put that energy and skill to good use, shall we?
Gymnastics class!
At the end of December we were invited to a "bring a friend" Funnastics class at Silverlake in Erlanger, Kentucky.  The goal, of course, was to recruit new students.  I went with a strong will and a closed pocketbook.  I thought it was a great opportunity for him to go to a free class and have some fun.  But, after watching how much my little monkey enjoyed the class, how well he listened, and how much he learned, I signed him up for a seven-week session.
We are half way through the class and it has been well worth it.  His confidence has blossomed, his agility has improved and his muscles have gotten stronger.  I can see his little mind working when they tell him the different stations they will have to do.
Though the coaches help, it is up to the students to guide themselves through the routine and try to remember what to do.   It is not only a great work out for his body, but also helps him hone his ability to focus and problem solve.
The kids not only do agility and strengthening exercises, but they also do listening activities.  Here they are all under a parachute.  This requires teamwork because they have to lift together and run under the parachute at the same time, while holding onto the parachute behind their backs.  Quite an accomplishment for a 4-year old!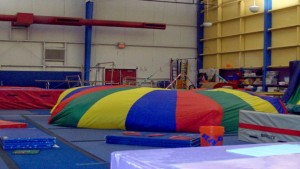 The sessions last seven weeks and there are several varieties available.  You do not have to be a member to take a class.  Click here for Silverlake's calendar of Funnastics based on age and experience.   It is a good idea to call Silverlake to talk about the class descriptions before you enroll your child.   Because we went to a "take a friend" class and signed up that night, we received a $10 discount off of the non-member price.
There are many other indoor classes available at Silverlake.  The facilities are clean and definitely family friendly, as they proudly proclaim to be "The Family Place."
If Silverlake is not in your neck of the woods, here are a few other places with gymnastic classes available:
Tumble Bees at Kids First Sports in Cincinnati Ohio
Queen City Gymnastics also at Kids First Sports in Cincinnati Ohio
Top Flight Gymnastics in Crestview Hills Kentucky
The Little Gym in Mason Ohio
Gym-Nation in Mason Ohio
Most area YMCAs offer tumbling and gymnastics classes – and there is bound to be one close to you!
Do you have a favorite gymnastics program?  Let us know!
When not blogging for Family Friendly Cincinnati, you can find Michelle writing at her personal blog, I'm Living the Good Life.